NOT your grandpa's Army anymore.
Army captain at Fort Bragg reunites with his husband, who was detained by ICE  
—  actual driveby media headline
———————-
First in English and then in Spanish, 24-year-old Sergio Avila-Rodriguez said he lacked the words to describe his feeling of freedom.

Avila-Rodriguez, who was born in Honduras and has been in the United States since he was 7, was detained by immigration officials last week. After spending a few days at the Stewart Detention Center in Georgia, he returned to the Triangle on Tuesday. His husband, an Army captain who serves as a chaplain at Fort Bragg, was waiting for him.

"I was shackled five days thinking that I didn't have no hope, going to a country that I didn't know what was going on. I didn't know who's there," Avila said during a press conference in Raleigh on Tuesday. "You know, because this is my country. The United States is my country. … I don't nothing about the other country."[…]
 Shackled for FIVE DAYS ?   Non-stop?  I don't think Charles Manson got that kind of treatment.  IF — emphasis on if —  that's true, that aspect of the story is worth investigating.
Also, If the US IS your country, why not become a citizen?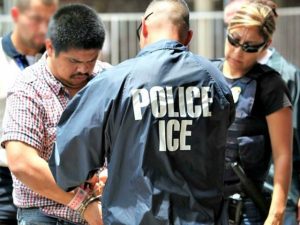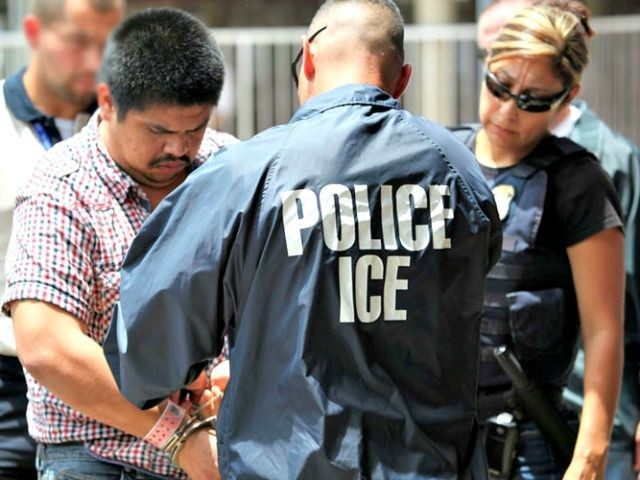 MORE:
[…] Avila-Rodriguez came to the United States in 2002 and appeared before an immigration court in Texas, according to court documents. He says he didn't attend a subsequent hearing because he did not have a permanent address to receive mail, so he didn't know about the court date. A removal order was then placed against him.

Fifteen years later, on Jan. 13, 2017, Avila-Rodriguez married Tim Brown, who is assigned to Army Special Forces. The couple traveled from Fayetteville to Key West, Florida, for the ceremony.

But with an order of removal still standing, the newlyweds worried that Avila-Rodriguez could be deported.[…] 
So, they KNEW the removal order was still standing, yet STILL got "married"?  And did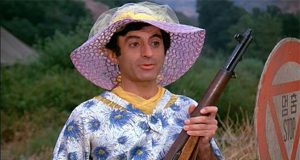 nothing to try and deal with the order itself?
MORE:
From 2012 to 2016, he was a recipient of DACA, the federal program that allows some people who were brought to the United States illegally as children to stay. But he lost the program's protection when he was charged in 2015 with driving while impaired. He pleaded guilty in the case.
It sounds like he should have been deported in 2015 upon pleading guilty.  But BarryO was still in charge in DC.  And deportations were happening rarely, if ever.
MORE:
[…]Three months after their wedding, Brown and Avila-Rodriguez filed for a marriage petition with the U.S. Citizenship and Immigration Services, court records show. The petition was the first step toward getting a green card, said Patrick Hatch, an immigration attorney representing Avila-Rodriguez.

Their petition was approved April 3, 2017, but an approval doesn't automatically grant green-card status, Hatch said.

Hatch advised Avila-Rodriguez and Brown to be cautious as they attended an interview a year later, on April 18, 2018, with immigration officials, who were tasked with ensuring the marriage was legitimate and not a ruse to obtain citizenship. The attorney said he had heard stories of agents with U.S. Customs and Enforcement waiting for and arresting immigrants at similar meetings.

Avila-Rodriguez waited in the car that day while Brown and Hatch entered the Raleigh office and was assured that ICE was not going to detain him.

Hatch said an immigration official pulled him aside for a private discussion.

"He asked if I really thought that they'd detain a spouse of an active-duty officer in the U.S. Army," Hatch recounted. "I looked at him in the eye. … I said, 'Yes. I do.'"

But Avila-Rodriguez entered the building when Brown felt assured that his husband wouldn't be arrested. Brown said he had an interaction with an immigration official.

"I remember shaking the man's hand and being thanked for my service to the country," he said.

The couple signed an order of supervision that would allow Avila-Rodriguez to remain in the United States under specific conditions, including that he check in at the ICE office in Charlotte on Thursday.

But when he got there, Avila-Rodriguez was arrested and detained.

"He reported May 10, at which time the decision was made to take him into ICE custody due to his status as an immigration fugitive and convicted criminal alien," ICE spokesman Bryan Cox said in a statement.[…]
Okay.  That makes sense.
MORE: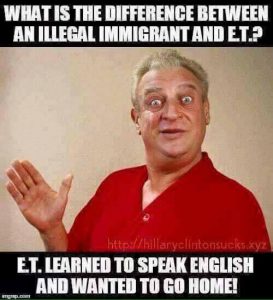 […] An order of supervision does not prevent ICE from arresting and detaining someone, Cox said, adding that ICE "initially encountered" Avila-Rodriguez during the April 18 meeting in Raleigh.

On Friday, Hatch filed a court motion to re-examine the order of removal that's been in place since 2002. The motion, and its pending status, meant ICE could release Avila-Rodriguez.

"ICE will await the outcome of the court's decision before determining future actions in his case," Cox said.

People who are in the country illegally and who have a criminal record are more likely to be detained by immigration officials. Ninety-two percent of those arrested by ICE in 2017 either had a criminal conviction, a pending criminal charge or were already subject to a removal order, Cox said.

While his husband was detained, Brown waged a desperate campaign to bring him home.

"I can afford an attorney," Brown said Tuesday. "I have contacts all over (Washington,) D.C. Only if you can move heaven and Earth, can you achieve what we've done. I have literary shaken heaven and Earth."

Brown said he and Avila-Rodriguez considered moving to Canada after they got married. That way, Avila-Rodriguez could have applied for citizenship from abroad on the grounds of his legal marriage to Brown.

"But the process would have probably taken about two years," Hatch said.
But he had been in the country SIXTEEN YEARS prior to being detained.  Too busy to start the process during that period?