Being governor is HARD.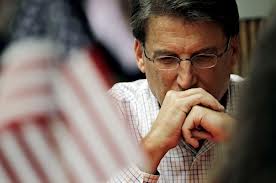 Legislators are not very nice to you sometimes.  People on the Internet get a little rough.  Sometimes you need a little encouragement — a little pick-me-up to help you get through the day in the executive mansion.  
A  faithful reader of this site clued us in on this tidbit:
"I got approached by a prominent Republican who very likely can get Pat McCrory himself  on the phone.  He wanted me and some of my friends to fire off some emails to our legislators saying nice things about the governor.  This individual also gave me McCrory's private email address so my friends and I could blind-copy the governor on all of these notes we send out."
Wow. Just,um — wow.