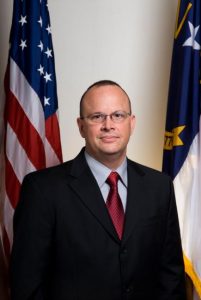 Jim Trogdon LOVES him some tolls.  He pushed for toll roads during the Perdue administration AND early in the McCrory administration.  Roy Cooper is bringing him back for some more as head of the state Department of Transportation.  That HAS to leave a sour taste in the mouths of Lake Norman area activists who worked so hard to derail Pat McCrory in November.  Granted, Cooper did make some noises about killing the I-77 toll deal during the campaign.  (But, as we often find out, what gets said during the campaign, and what happens after the campaign are often radically different things.) 
Here's what Trogdon has been doing since he left state government in 2013:
[…] After stepping down from NCDOT in 2013, Trogdon joined Atkins as vice president of regional business development and sales for the U. S. mid-Atlantic region.

Atkins is an engineering firm that works with P3 projects– public and private partnerships to build things like toll lanes.

Atkins has close ties with Cintra, the group has worked on the Port Mann Bridge/Highway in Vancouver, British Columbia, Canada and Texas State Highway 130 (SH 130) in Austin, Texas. 

SH 130 Concession Company, a subsidiary of Cintra, recently declared bankruptcy on its toll lane project, a project similar to the I-77 Express Lanes in Lake Norman.

While serving with Atkins, Trogdon penned an article called "To Toll or Not To Toll."

"Tolling appears superior to all other options," Trogdon argues. "Degraded trip reliability, congestion and lost productivity appear more costly than tolls. In short, tolling proved beneficial to those who value their time."

Trogdon formerly served on the Board of Directors for the Alliance of Toll Interoperability. The North Carolina Toll Authority is a member of ATI.

Trogden has spoken at conferences held by the International Bridge, Tunnel and Turnpike Association. The IBTTA calls itself an "alliance of toll operators and associated industries." He also previously served on the IBTTA's board of directors.  […] 
Let's see.  He's a VP for a firm closely tied to the toll road contractor.  A role in both sides of the business transaction.  Just like the guy at Appalachian State.  Boy, confirmation hearings on proposed cabinet members are looking better and better each day.  
Here's Trogdon in 2013 defending toll roads to frustrated Mecklenburg County residents: 
"When you ask somebody if they would rather have a toll road or a free road, of course they would say they would rather have a free road," Trogdon told the Citizen in an exclusive interview prior to Wednesday afternoon's public workshop at Huntersville Town Hall. "When you ask them if they would rather have a toll road and additional capacity and reliable travel times that they can depend on, or have no additional capacity at all, they start to understand why it needs to be an option to consider."
WHAT are we paying the highest gas tax in the southeast — one of the highest in the nation – for, then?  How is it that other states –OUR NEIGHBORS — manage to take care of all their road needs with a much lower gas tax than what we're saddled with? MORE:
[…] Trogdon was in Huntersville on Wednesday, along with several NCDOT officials, to meet with local residents and business leaders about the project to widen I-77 between Exit 36 in Mooresville and I-85 in Charlotte and make additional bridge and connectivity improvements using high-occupancy toll (HOT) lanes — one in each direction north of Cornelius and two in each direction south — while maintaining the existing general purpose lanes, or free lanes, in both directions.

Estimated at some $550 million, the project would combine three separate I-77 improvement projects into one to make it attractive for private consortiums to undertake and to take a holistic rather than piecemeal approach to improving the roadway, which will include lane widening on I-77 south of I-85, plus new connections to the Brookshire Freeway (I-277).

The reason for enlisting private investment and toll lanes is simple, Trogdon said.

Money.

In summary, Trogdon said if the state were to cobble together all the federal funding available to the state for highways with all of the state's bridge replacement funding, its loop funding, it's (non-interstate) U.S. highway funding and its interstate highway maintenance funds as well as new capacity funds, it would still require 40 years of revenues to address the anticipated demand of the next 30 years statewide. That's $28 billion, "And that's obviously not a viable option," he said.

In reality, Trogdon said it would take 132 years worth of anticipated interstate highway funding to meet that 30-year demand — even longer factoring inflation. So, he pointed to a 2007 to 2010 "fast lanes" study by the Mecklenburg-Union Metropolitan Planning Organization (MUMPO), which identified several corridors in the Charlotte area that would be viable candidates for new toll roads or added toll lanes. Among those emerging from the pack, I-77 north of downtown Charlotte.[…]