#ncpol: A scandal waiting to happen (Gov. Stanley Roper ???)
Come and knock on our door… (Come and knock on our door)
We've been waiting for you…. (We've been waiting for you)  …
________________________________________
Many of you are likely familiar with that gem of American culture "Three's Company" — where the kisses are hers, and hers, and his.  It's a staple on Nick at Nite and TVLand.  (Of course, I am old enough to remember it as part of ABC's prime time lineup.)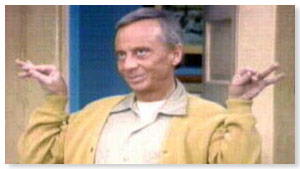 The show featured a rather odd landlord named Stanley Roper who tried to stay on top of the shenanigans of Jack, Janet, and Chrissy.  Well, Norman Fell's character apparently influenced our fair state's governor.  It appears Pat McCrory is in the mood to become a landlord: 
Gov. Pat McCrory wants to see private development on at least six state-owned properties in Raleigh, he told leaders of a downtown group Thursday.

McCrory updated the Downtown Raleigh Alliance on his "Project Phoenix" plans to revitalize state government buildings in and around downtown by adding retail and residential uses. His goal is to extend downtown Raleigh's success and round-the-clock activity to the north, where state offices currently create a dead zone.

"There's no commerce, there's no social interaction except for some Monday afternoons with protesters, and we can do better than that," McCrory said. "We feel like the state buildings need to be a part of the fabric of the community." […] 
A Victoria's Secret adjacent to the Department of Commerce? (Oh, boy.  When do we break ground?) Wait, there's MORE:
[…] McCrory first announced Project Phoenix last year and launched a detailed review of each state-owned building in the city. On Thursday, he and his staff listed the properties they want to see redeveloped first:

The former Rex Hospital on Wade Avenue: The 16-acre site will be marketed to developers for a long-term lease. The old hospital building currently houses the state Division of Employment Security; the property has an assessed tax value of $29.6 million.

"The Employment Security Division does not need to be in such valuable space," said John LaPenta, who's overseeing Project Phoenix for McCrory. "They can do their jobs anywhere. This property is so valuable, it's going to have nationwide appeal."
*Screeeeeeeeeeeech !!!*  Lease?  Valuable property?  Why not SELL IT? If it is so valuable, it should draw top dollar. MORE: 
[…] The big parking lot next to the N.C. Museum of History: The McCrory administration is launching a review of what could be built on the lot, which occupies an entire city block between Wilmington and Blount streets.

LaPenta said the state could seek a public-private partnership, and a hotel is one of the possibilities. "It's an unbelievable piece of property in an ideal location," he said.
Wait. Wait. Wait. Taxpayers as part-owners of a hotel? Public-private partnership?  These guys have been trying the P3 route with the project to Widen I-77 in Mecklenburg County.  It's succeeded in igniting a grassroots rebellion and costing several local politicians their JOBS.  Instead of public-private, why not a completely private enterprise ????  Get a reasonable fair-market appraisal on the property and SELL IT.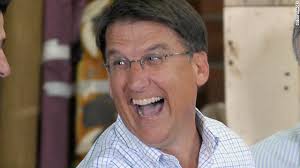 […] The Department of Revenue building: Hundreds of revenue employees will eventually move out of the massive building on North Wilmington Street to make way for other possible uses. The McCrory administration is studying possibilities for the site, which could mix offices with retail or other uses.

"Ninety to 99 percent of the employees at the Department of Revenue can do their jobs somewhere else," LaPenta said.

Other state-owned sites slated for redevelopment have already been announced, including the lease of 43 acres along Blue Ridge Road, the lease of a smaller site at the corner of Peace and North Salisbury streets, and the sale of a cluster of historic homes along Blount and Person streets.
The state DOES NOT NEED to be involved in real estate development. If you DON'T need the property, sell it.  Let a good capitalist, who understands the real estate market, take a stab at it.
This sounds like a great way for big contributors to the governor's campaign and other various and sundry bundlers to get some favoritism and score big.  With experiences like THIS and THIS in the not-so-distant past, does the 'conservative revolution' in Raleigh really need ONE MORE?