#ncga: 'NO, we will NOT be leaving ECU alone.'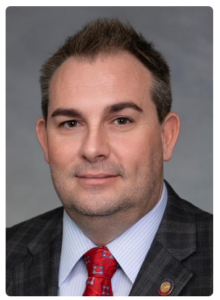 So said the NC House majority leader at a House GOP confab earlier today on Jones Street.  Rep. John Bell's comment came in response to a long, drawn-out diatribe from beleaguered Greenville Republican Tim Reeder, also an ECU physician.
Reeder has been out in front of the effort to paint critics of East Carolina University's pediatric transgender work as unstable liars.  Reeder continued to argue before his colleagues that allegations of pediatric transgender treatments at ECU were false — even as emails came to light portraying the allegations as 100 percent TRUE.
As a hail-Mary, Reeder begged his colleagues to get off of ECU and put some heat on UNC and Duke for their transgender work.  The House majority leader informed him, in front of the whole House GOP caucus, that ECU would not be let off the hook.
Education First Alliance's Sloan Rachmuth published her first post about the recently-secured ECU Medical emails today:
ECU's top brass came together to start the new pediatric clinic

ECU pediatricians had no experience in prescribing puberty blockers or hormones, yet they put together trainings for medical school residents and other Faculty

The top priority for ECU docs was aggressively market the Pride Clinic to quickly ramp up demand and establish an institution dedicated to child sex changes

Staff sought training from a Planned Parenthood doctor, and a clinic that reportedly gives hysterectomies to 16 year olds

ECU's Pride Clinic was started with money from private donors earmarked for treating transgender children

ECU Health's CEO has repeatedly called the news of its transgender clinic for children politically motivated misinformation.Talking about the clinic among members of the public would threaten the safety of ECU employees, Waldrum said.

However, newly released emails from ECU Health show that Waldrum has been conducting a deflection campaign reminiscent of Bill Clinton circa 1998.

High-level ECU officials began planning a clinic to specifically treat children who wanted to change genders in January 2022 – at the same time the hospital rebranded after its merger with Vidant Health.

The plans show that ECU pediatric doctors and residents are prepared to use therapy, puberty blockers, and hormones.[…]

[…]

[….]

[…]