#ncga: "My senator bought me a fur coat!"
Moore County is entering a brave new world with its THIRD state senator in six years.  Tom McInnis (R-Richmond) is the incumbent in our new district.  He's going to be facing a primary from the mayor of Whispering Pines.  Just in case McInnis makes it back to Raleigh, we wanted to give you a sneak peek of what to expect: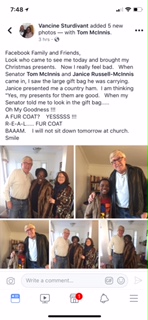 Yep.  THAT is Vancine Sturdivant with McInnis –  sporting her brand new fur coat she says the senator got her for Christmas.  Here's a better picture: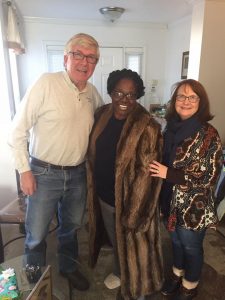 Sturdivant is the chairman of the Anson County Democrat Party.  She's also an Anson County commissioner.  In October, she spearheaded the county party's Blue & White gala which featured the despicable Gene Nichol as keynote speaker.
Pay attention, Moore County Democrats.  McInnis might not be such a bad deal for you, after all.