#ncga: Following the "affiliated" Money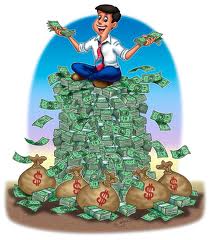 We all remember the sneakiness associated with passing those "affiliated committees" through the General Assembly last session. Now, we are finally starting to see a paper trail.
Let's look at the North Carolina Senate majority.  THEY have founded the NC Republican Senatorial Committee to facilitate their cash grab.  (Remember, these things don't have the donation limits good ol' fashioned donations to the political parties do.)   Their latest disclosure report, dated March 9, shows $30,000 raised for the cycle and $29,905.21 on hand. 
(I am willing to bet this money has been laundered so thoroughly that it smells Downy fresh.)  
Phil Berger kicked in $10,000 in January.  Brent Jackson kicked in $20,000 on March 5, and Harry Brown ponied up $10,000 on the same day.  In February, Bill Rabon and Kathy Harrington each ponied up $10,000.  David Curtis and Joyce Krawiec each tossed in $20,000 on March 10.   On March 14, Curtis ponied up an additional $4,000.  
We're still on the hunt for the House GOP report — AND the others.