NC Campaign 2012: Waldo closing in on Boom Boom; UNDECIDED STILL ON TOP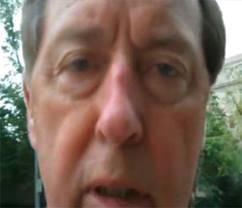 According to leftist pollster PPP,  our invisible lieutenant governor has dramatically closed the gap on Democrat gubernatorial primary second place-holder, sidewalk wrestler and former congressman, Bobby "Boom Boom" Etheridge:
A new poll shows a major shift in the Democratic governor's race with Lt. Gov. Walter Dalton erasing rival Bob Etheridge's 11-point lead from a month ago.

The Public Policy Polling survey of Democratic primary voters puts the two frontrunners in a virtual tie with Dalton's 1-percentage-point lead within the poll's 4.4 percent margin of error.

In late March, Etheridge boasted 26 percent in head-to-head matchup with Dalton receiving just 11 percent. But while Etheridge remained essentially in place at 25 percent, Dalton scored a boost to 26 percent by winning previously undecided voters, the polling data shows.

The latest numbers came from automated phone surveys in the days after three gubernatorial debates and Dalton's first TV ad campaign. Dalton started his advertising a week early than Etheridge, who begins airing an education-themed spot Tuesday.

Even with Dalton's surge, the race remains largely unsettled with about 35 percent of Democratic primary voters still undecided on which candidate they will support in the May 8 primary, according to the results from the left-leaning polling firm based in Raleigh.

A look inside the PPP numbers shows a definite geographical split with Etheridge winning the Raleigh area and the entire eastern part of the state from Elizabeth City down to Wilmington. But Dalton is crushing his rival in the Charlotte and Greensboro regions. […]
I concur with THAT finding on geography.  It matches what I am hearing.
I hope the McCrory campaign has put together a good file on UNDECIDED — who is looking more and more like the Democrat standard-bearer in the Fall.
I say that — if things remain this close — Boom Boom and the lieutenant governor settle things with
a wrestling match
.  I'd put my money on Boom Boom in that one.