#NC-09: Where's the report?
The newly-seated state board of elections is preparing to take on allegations of vote fraud in the Ninth Congressional District.  We've heard that the state board staff has been  working tirelessly behind the scenes gathering info while the legal and political warfare over the board went on.
Well, we know that everyone wants to talk about Bladen County.  That's because there's some alleged dirt there staining Republicans.  (And that's what the media and the Raleigh establishment live for.)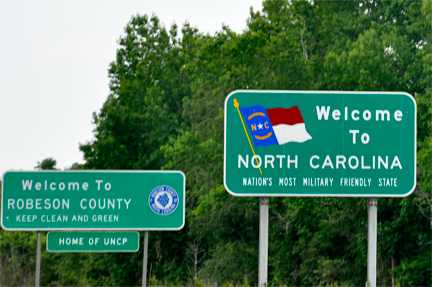 Only a piece of Bladen County is in the Ninth District.  ALL of Robeson County is there.  In addition to the lack of a congressman, Robeson County also has a district court race in limbo.  A Republican led on election day, but his lead vanished during canvassing.  
Democrats and the media are all bent out of shape about one McRae Dowless in Bladen County and the $7K he reportedly got from Mark Harris's consultant in the Ninth District race.  In Robeson County, we've found that nearly $100K was laundered via less than a handful of Democrat campaigns to Democrat operatives doing basically the same thing Dowless was reportedly doing.
That total does not include the final report of one John Avery Campbell, the Democrat opponent to senator Danny Earl Britt (R). My sources tell me that the Campbell campaign was one of the groups the GOTV cash was washed through.  Yet, Campbell's final report — which includes election day — is over a month overdue.  The state board of elections required all others to file their final 2018 reports a little over a month ago.
In Campbell's file on the state board website, there is a letter from the board declaring that a board reminder to file a final report was UNDELIVERABLE.  Apparently, board representatives cannot locate Campbell or his campaign treasurer.
The Campbell campaign was apparently reprimanded numerous times throughout the 2018 campaign for failing to comply with campaign filing regulations and deadlines.
Funny.  The state board's voter lookup shows Campbell's treasurer registered to vote at the same address listed on their UNDELIVERABLE letter: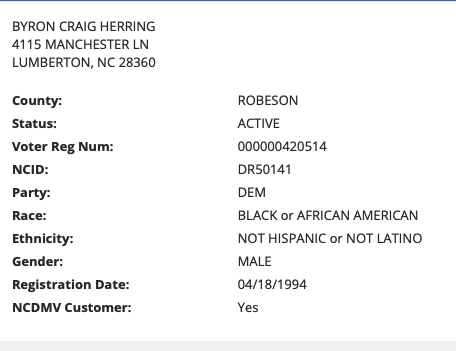 Meanwhile, Campbell's correct home address is listed in several places on state elections documents.  In fact, here's one example: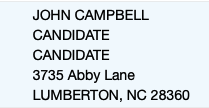 With GPS (and a full tank of gas) I bet I could find either location  to hand-deliver some mail.  After all, we are talking about the biggest thing on the state board's agenda right now.  And we are talking about a veteran elected official who knows ALL ABOUT campaign finance filing requirements.
Campbell is also the sitting vice-chairman of the Robeson County Board of Education.  Perhaps someone could stop by a school board meeting and ask him for his missing campaign report. 
That missing document is likely to provide a lot of potentially interesting information for folks seeking the whole story on the flow of sketchy cash through the Ninth District.  That is, if there is anyone out there in an official capacity who really gives a damn about getting the truth about corruption in  Robeson County and the Ninth District.