NC-02: Liberal GOPers fawn over Renee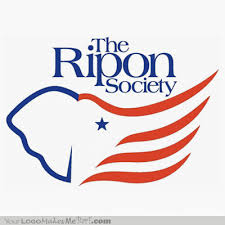 The Ripon Society — a left-leaning Republican group that basically wants to evict the church-going, Ronald Reagan / Barry Goldwater / Hesse Helms — idolizing crowd from the GOP — has published a fawning interview of US Rep. Renee Ellmers in the latest issue of their in-house publication.   (These are THE big-government RINOs.)
Here are some of the,um, "highlights": 
You've been I office for four years now. What's been the toughest part of the job during that time?  As a former nurse, when I see a problem, I work quickly to fix it. But by design, this is not how our government was created to operate. Our government was deliberately structured to move slowly, and that has definitely taken some time to get used to. Oftentimes, I find that Congress is focused on "checking the right boxes" instead of addressing the real issues of the day. As Republicans, I'd like to see us be more proactive and results-oriented – similar to how nurses operate in their day-to-day. Nurses use what is called the Nursing Process to care for their patients. This consists of assessment, a nursing diagnosis, a plan featuring both short and long term goals, implementation and evaluation. To maximize efficiency and ensure results, I would like to see Congress work in a similar manner.
And what about her greatest victory?
And the most rewarding part? Is there a victory or experience you've had that has made it especially worthwhile?  A recent victory that I was particularly proud of is when my legislation, the Trafficking Awareness Training for Health Care Act, passed the House by unanimous consent. This bipartisan legislation will educate healthcare professionals so they can recognize signs of human trafficking and intercede on the patient's behalf early on. I know that it will play a crucial role in stopping the heinous crime that is human trafficking. Senators Bill Cassidy and Gary Peters have introduced a counterpart to this legislation in the Senate, so I remain very optimistic this human trafficking bill will pass Congress and head straight to the President's desk!
What? You mean it WASN'T foiling the 20-week late-term abortion ban?  Or helping to deep-six the effort to defund ObamaCare?  MORE: 
How has your background as a medical professional and intensive care nurse shaped your perspective as a Member of Congress? Before being elected to Congress, I served as a registered nurse for over 21 years, initially as a surgical intensive care nurse and then focusing on surgical and wound care patients. I felt a call to action as I saw my industry and life's work coming under attack due to the government's impending takeover of patients' rights and access to healthcare, also known as the Patient Protection and Affordable Care Act. My healthcare background has given me the knowledge needed to implement better healthcare policy for our country's citizens and it has given me an "insider's perspective" as to what truly needs to be addressed in order for our country to receive better healthcare. Having dealt with the administrative hurdles that come when working in a hospital setting, I couldn't have had a better career to prepare me for the political environment.
Other than introducing a few niche regulatory tweaks to please various doctors' groups, WHAT has she done to help "our country to receive better healthcare"?  Now, this part is where it gets interesting: 
You've been outspoken in your support for immigration reform. What are the key principles and elements that must underlie any reform plan? Regardless of where one may stand on the specifics of this issue, we can all agree that there are problems with existing immigration policies in the U.S. Immigration reform is a priority for me, as I have heard from almost every industry in my district call for this, including hospitality, agriculture, manufacturing, and technology. Reform would benefit our economy as a whole, and I remain optimistic that we will produce a real solution to this problem soon. We must address the immigration issue in three areas – first, we must secure our border. Once this happens, we need to reform our current legal immigration system, as most would agree it is not consistent or reliable. Once these two issues have been tackled, we should address those who are living here illegally.
Hmmm.  THIS VOTE right here sure didn't do much about securing the border.
You've also been critical of President Obama, saying recently that his State of the Union Address was filled with "empty promises and over-blown rhetoric." If you could send one bill to the President's desk for him to sign tomorrow, what would it be? My Human Trafficking bill, the Trafficking Awareness Training for Health Care Act, because it implements sound healthcare policy and it is a complete bipartisan effort. More importantly, this will assist in halting the pervasive crime of human trafficking that exists within our borders.
"Empty promises and overblown rhetoric"?  Sounds like a good way to describe her campaign ads.  There's nothing like bad-mouthing the marriage amendment to the state constitution, and then campaigning as a "fighter for family values."  Or attacking ObamaCare on the campaign trail and then killing efforts in DC to defund it.  Or how about claiming to be pro-life, taking endorsements and money from pro-lifers, and then killing a late-term abortion ban?
Oh, and that human trafficking bill ranks higher than killing ObamaCare or securing the border?  (Just checking.)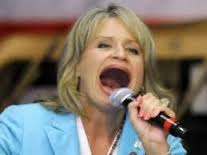 MORE:
What about your other priorities over the next two years?  Healthcare has been and will always remain a priority for me, especially in this new Congress. It's the reason I came to office, and I will continue to prioritize and advocate for patient-centered healthcare. In fact, I look forward to working with my colleagues on an upcoming bill that will seek to replace the Affordable Care Act in order to promote consumer-centered healthcare. Another priority of mine will continue to be Energy & Commerce Committee's 21st Century Cures Initiative. I am pleased to say that I have two items included in the legislative package emerging from this initiative. Additionally, last Congress, I launched a Grid Innovation Caucus with Congressman Jerry McNerney of California. It is a goal of mine to grow this new caucus and work to educate members about issues related to grid innovation.
Grid innovation is bureaucrat code for "alternative," taxpayer-subsidized things like windmills and solar panels.
2016 can't get here fast enough.