More, um, "fan mail" from the Planet Mars …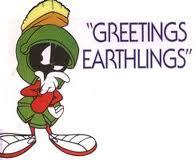 When you speak your mind in a public forum, you tend to hear from from all kinds of people — out in left field, right field, and sometimes even from the planet Mars.   Case in point — THIS love letter written by an Occupy Wall Streeter apparently under the influence of mind-numbing substances.  
Well, we got another doozy.  I am not sure if this is a fan of our site — trying to be funny — or another fine representative of the granola-and-patchouli caucus Typing-While-Impaired (TWI).  Regardless, it made us laugh.  Here it is — in its entirety — for your reading pleasure:
Surrender Now! Seek terms from your fascist bunker Caddy location at once. You are outgunned with our superior firepower Used M-1 Abrams Battle Tanks from Omar's used Tractors and Tent Supply company.. Your Dystopia is showing as the Good Ship Neo-Con "Republican Paradise" sinks into the nearest Moore County Septic Tank..Yours,, The escape Alien Lizards from Area 51 and the greatest Unreallty TV show " Lizard Lick Towing and Repo company..