Mentally incompetent? Here's your ballot.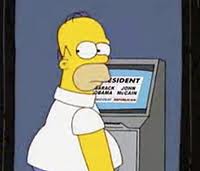 Life in this state never ceases to amaze me.  Our state government is absolutely amazing. Gaston Pridgen — Robeson County's first elected GOP legislator EVER — is doing yeoman's work in trying to knock some common sense into the bureaucracy.
Pridgen was the driving force behind exposing the school lunch scandal in Hoke County, where a 4 yr old's lunch was deemed unhealthy and replaced with chicken  nuggets.  Now, the Lumberton Republican is taking on what looks like some serious voter registration-related monkey business:
RALEIGH — State Rep. G.L. Pridgen says he is considering pursuing legislation that would restrict anyone but legal guardians from registering to vote individuals who have been ruled mentally incompetent by the courts.

Unlike most states, North Carolina does not restrict individuals from registering to vote based on mental competency.
Um …. WHY???????????  (Read On:) 
"I think I could get support for such legislation from both parties," Pridgen, who is the guardian of a family member in a group home, told The Robesonian. "Of course, there will be those who argue that everyone, no matter what, has the right to vote."

Pridgen, who represents Robeson, Scotland and Hoke counties, is currently looking into the complaint of an Orrum man whose sister with Down syndrome was registered to vote by a Fayetteville group home in 2006 without his knowledge. Tim Farabaugh had been the woman's legal guardian since 2005 but did not learn until 2011 that she had been registered to vote.

"It took me most of January of 2011, running from the Cumberland County Elections Board to the state Board of Elections, and a letter to the Cumberland County Elections Board to remove Maria's name from the registered voters list," Farabaugh said in a letter to Don Wright, general counsel for the state Board of Elections. "If this is going on in Cumberland County, N.C., then it must be going on all over the state and all over the nation as well. This is wrong in the worst way.We need to stop the exploitation of all the Maria's in this nation. It is my concern that this may be widespread … ."

Maria Farabaugh now lives with her brother, a retired pipe-fitter who describes himself as a conservative Democrat, in Orrum.

"It should be a law that people who are mentally challenged should not be able to vote," Farabaugh said. "It should not be left up to even the guardian to decide because that opens the door for voter fraud."

Farabaugh wants a road trip.

"I want to go to Washington, D.C., and say on the floor of the Congress that this is not just a state problem, but it's a national problem, he said. "I'm doing this for the country and for the people."

Wright officially was forwarded a letter outlining Farabaugh's concerns on Thursday. He said after reading the complaint that the issue is not one of unlawfully providing assistance to a voter but an issue dealing with voter registration.

Wright had been quoted earlier as saying a felony may have been committed, but that was before he realized the complaint was about voter registration and not the assistance of a voter in voting an absentee ballot, he said.

"I have to research the issue to determine the propriety for registering to vote," Wright told The Robesonian on Friday. His investigation should be complete in about one week, he said.

Wright also said that there are about four or five complaints of a similar nature year filed with the state Board of Elections each year.

"That's very rare considering there are more than 6 million voters in North Carolina," Wright said. "I am unaware of any massive amount of residents at group homes being registered to vote."

Pridgen told The Robesonian on Friday that he is conducting his own investigation to determine if there is enough cause to seek a legislative solution to problems in the voter registration system brought to his attention by Farabaugh.

"I don't know yet what all the problems are, but when I started looking into this it appears this is something that is widespread," he said.

Pridgen said that he doubts that any legislation he might propose to deal with regulating voter registration and voting by the mentally challenged would move forward until next year, when the General Assembly convenes for its long session.

"There's just too much going on here during this short session," Pridgen said.
Wow. THIS sounds like something that needs to be tackled PRIOR to the November vote.  This looks like a situation that is prime for these mentally challenged folks to be victimized.
We're told that no vote fraud ever happens here.  Gary Bartlett is looking to prosecute James O'Keefe for his video.  And we have stuff like this going on. ..