L'affaire Laroque offers unique glimpse into secretive world of legislative ethics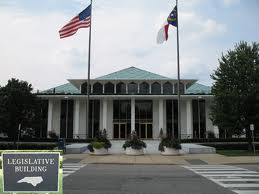 State Rep. Stephen Laroque — a close friend and political ally of House Speaker Thom Tillis — is taking a lot of heat over his management of two government-funded non-profits.  The N&O posted an item  raising questions about Laroque's support of legislation favored by the billboard industry, while he — Laroque — had an ownership interest in some billboards:
[…] One of LaRoque's two nonprofit organizations, formed to loan federal money to struggling businesses, made loans to two billboard companies in 2007 and 2009, records show. His nonprofit owns four of the billboards because the loan defaulted, according to information LaRoque provided the Ethics Commisison. LaRoque told the commisison he also owns half interest in five billboards in Lenoir County.

Today  N.C. Policy Watch, which first raised questions about LaRoque's finances last year, posted online a document showing that LaRoque's for-profit company listed ownership of $38,000 worth of billboards as of December 2010.

"It was not a conflict because it affects all billboards throughout the state," LaRoque said Friday. "Because the nonprofits only did four billboards, I had half interest in five billboards, it was not a significant number. It would have been a conflict if I did something specifically for one (billboard)."

Last June, the Senate overwhelmingly approved the billboard tree-cutting bill. The legislation ran into trouble in the House, where a Republican lawmaker wanted additional protections for trees and to ensure local control. But a committee formed to work out a compromise, which included LaRoque, gutted the protections and restored most of what the industry wanted.

Earlier in the year, LaRoque had introduced a similar bill — after obtaining the Ethics Commission's opinion — but that piece of legislation didn't advance. […]
Over at NCPolicyWatch, investigative reporter Sarah Ovaska offered up
her take
on the billboard kerfluffle and the Ethics Commission opinion:
LaRoque told the N&O that the opinion cleared him to move forward on the legislation, and it appears to do that, but the actual opinion written by commission attorney Kathleen Edwards isn't as clear-cut as one might think.

From Edwards' letter to LaRoque (read the whole thing over at the N&O's Under the Dome):

 It appears that this bill would provide a reasonably foreseeable financial benefit to you because it would increase the usability and value of those billboards in which you have a financial interest. Therefore, in the event you conclude that there is indeed a financial benefit and that benefit would impair your independence of judgment, you would otherwise be required to decline to participate in any legislative action with respect to that bill.

Edwards then gets into the big "however" in the state ethics law that gave LaRoque the blessing he needed to push forward with the pro-billboard legislation. Essentially, legislators can take advantage of a "safe harbors" exception in state ethics laws when a law affects a whole class of people (commercial billboard owners, in this case) and not just a single company or handful of people.

From Edwards:

This bill would enhance the ability of billboard owners to clear vegetation adjacent to billboards, place a time limit on the denial of vegetation permits, and provide specific means for appealing the decision of DOT officials. It therefore would appear to provide a financial benefit to billboard owners, such as yourself and your business, Piedmont Development, Inc., insofar as it would enhance the visibility of the billboards and thus increase their value. It is unclear, however, whether that benefit would "substantially influence" you….

Given your ownership of relatively few billboards and the fact that the expanded clearing perimeter, and the elimination of the permit requirement under some circumstances, would not benefit you to a greater extent than other billboard owners, the class safe harbor would permit you to take legislative actions with respect to the bill, including the introduction of the bill.

What makes this conflict-of-interest even more interesting, is that two members of the Rules Review Committee, including the chairman, recused themselves from weighing in on the billboard issue when it came before them earlier this month to approve the temporary rules to cut down the trees.

Chairman Ralph Walker, of Raleigh, recused himself because he owned land with billboards on them, said Joe DeLuca, a staffer with the committee that hammers out the final details of legislation. Faylene Whitaker, of Climax, another review commission member, also recused herself from deciding the billboard issue.

Whitaker said she rents billboards to advertise her family business.

"It would have been a conflict of interest," she said.