L'affaire Laroque has a surprise ending (Raleigh ruling class breathes collective sigh of relief)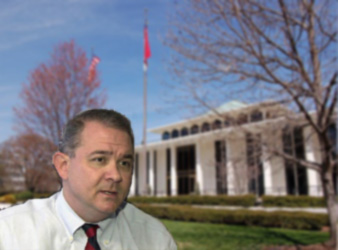 Embattled state legislator — and Richard Morgan disciple — Stephen LaRoque (R-Kinston) went down to defeat in last night's GOP state House primary.   The margin of 54 votes was close enough for a recount.  But LaRoque went ahead and conceded — an unusual move for a hard-nosed streetfighter like LaRoque.
Perhaps, were there phone calls between LaRoque and the camp of House Speaker — and fellow Morgan disciple — Thom Tillis?  Tillis had been dealing with the pressure of the corruption allegations against LaRoque before the sex scandals in his own office went public.  Tillis — seeking to get monkeys off his back in preparation for his 2014 run against Senator Kay Hagan — likely thought it was a great idea for LaRoque to "go away."  Going away would mean the end of an ethic probe, and the disappearance of  LaRoque out of the pages of The N&O.
From what I am hearing from Jones Street, Tom-with-an-H may be losing his LaRoque problem, but will likely gain more problems to supplement his sex-and-lobbyists headache.  Stay tuned …