Keep focus on what's REALLY important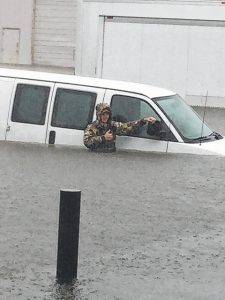 We got rocked pretty fiercely by Hurricane Matthew.  Haymaker HQ lost power for 2.5 days.  (Boy, was somebody an unhappy camper.)  What made it harder to take?  There's a Duke Power maintenance yard about TWO MILES AWAY as the crow flies. 
After all my moaning and whining about no wi-fi, I happened to catch video of what's going on in my hometown of Lumberton.  (I've still got a lot of good friends down there.)  In the hurricane's aftermath, it looks like a Third World hell.
Whole buildings are submerged in water.  A levee at the Lumber River broke — flooding a large subdivision in town.  Many homes now have 3-4 feet of water standing in their yards.  Parts of the town have been transformed into, basically, islands.  I am told that I-95 has been shut down in the vicinity of Lumberton — making it really tough for average folks to get in or out.  (The location for the photo below is at an interchange with I-95. Yes, those are cars and tractor trailers submerged behind the kayakers.)  Much of the town has no electricity and no drinking water.  Pure doggone chaos.  
One might think they're shooting a disaster movie there — or an episode of The Walking Dead.  No such luck.
My 2.5 days without wi-fi and lights looks pretty damn insignificant when compared to getting rescued from your rooftop by a National Guard helicopter.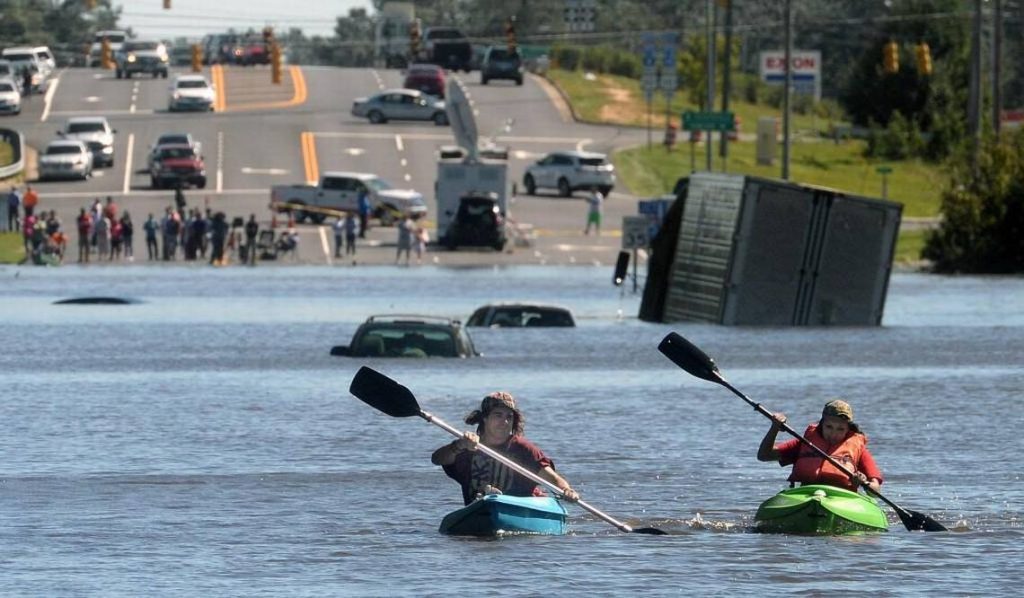 Say a prayer for those folks down in Lumberton.  And be sure to thank your lucky stars that you haven't been spending the last few days trying to save yourself, your family, and your personal belongings from the rising floodwaters.