Is The Tea Party brewing a primary challenge to McCrory in 2012?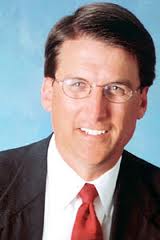 The alleged mainstream media and the Raleigh Ruling Class have already crowned Pat McCrory the next governor of North Carolina.  Just like their other favorite Mitt Romney, Pat has shown off his purty hair and his great smile, but has said and done little to fire up the conservative base he NEEDS to win in November 2012.
An analysis by The John Locke Foundation of the 2008 returns found that McCrory failed miserably in firing up and turning out conservatives in his close loss to Bev. It appears that he is on track to once again be less-than-inspiring to his party's base.
I am sure all of the consultants and other members of the Raleigh ruling class are preaching to Pat the "importance" of moderation, so as to not scare off the beloved independents.  Jesse Helms got 30 years in the U.S. Senate, and he never went anywhere NEAR the middle of the road.  (He STAYED in the right lane.)
Thanks to some of my recent writing about McCrory, I've been able to communicate with some Charlotte-area conservatives.  They said Pat threw them under the bus, as mayor, and will do it to conservatives statewide if he makes it to The Executive Mansion in Raleigh.
Public Policy Polling, a leftist firm out of Durham, released a poll in September that showed McCrory losing by six to a generic, unnamed Tea Party candidate in May 2012:
Pat McCrory is presumed to be a shoo-in for a rematch with Bev Perdue next fall, and no other Republicans have publicly made moves to knock him from his perch. But despite his recent overtures to the Tea Party, his almost twenty years of moderate politics before then make him still somewhat vulnerable to a strong challenge from his right.

McCrory has a floor of 40% in a two-way generic primary, but 46% of North Carolina GOP primary voters say they would prefer a generic "Tea Party conservative." The ideal right-winger leads by 31 points with the furthest-right voters, and McCrory by 32 with centrists. But those moderates comprise only 14% of the electorate, while those who call themselves "very conservative" are a 43% plurality. Bringing things back McCrory's way is his 50-37 lead with the 36% who place themselves between the two groups.  [ …]

"Pat McCrory could have a lot of trouble with someone running to his right as the Republican electorate gets more and more conservative," said Dean Debnam, President of Public Policy Polling. "The question is just whether someone will step up."
These guys make a good point — even though I know they have an agenda.  The Left knows the only way to save Bev and Barry in 2012 is for their opposition to be divided and disenchanted with their nominees when November rolls around.
One name I'm hearing from Tea Partiers as a possible McCrory challenger in May is Dan Barrett, a native of Laurinburg in Scotland County and the former chairman of The Davie County Board of Commissioners.  Barrett ran for governor in 2004, and the state Court of Appeals in 2008. He made state and national news in 2004 for his campaign tactics — walking from Murphy to Manteo.   Barrett is an attorney in Clemmons, and an accomplished, respected author and expert in the area of labor and employment law.
If conservatives roll over and play dead, McCrory has no incentive to listen to us or take us seriously.  The fact that we only have ONE candidate with statewide name ID is a testament to the poor party-building and candidate recruitment efforts at NCGOP HQ.
The voters screamed for radical change in Raleigh in 2010.  How does the NCGOP expect to grow into the state's majority party when it offers up just a slightly-different flavor of business-as-usual?
The latest party registration numbers ought to be a wakeup call to the NCGOP.  In an environment filled with hatred of tax-and-spend big government, UNAFFILIATED is currently North Carolina's most popular and fastest growing "party."