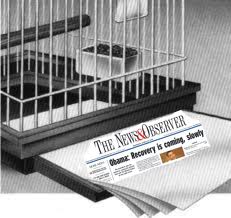 Rob Christensen.  Rob – Rob – Rob.  *Sigh*
Please step out of The News & Observer offices a little more.  Your detachment from reality — The Real World — is becoming more apparent with every word you write:
There is a temptation to try to draw too many lessons from off-year local elections, which often center on such issues as student assignment plans and landfills.

As former U.S. House Speaker Tip O'Neill famously said: "All politics is local."

So what happened Tuesday, and earlier this fall, does not necessarily translate into what will happen in 2012 in the races involving President Barack Obama and Gov. Bev Perdue.

But almost uniformly, this fall has been a good one for Democrats, winning control of the Wake County school board and winning the mayor's races in cities such as Charlotte, Cary, Fayetteville and Wilmington. In Raleigh, the Democrats elected an independent as mayor, and in Greensboro voters turned out a conservative mayor and elected a Republican with crossover appeal to Democrats.

Which, after GOP victories in 2010, at least stops the skid for Democrats.
Electing a Republican in Greensboro is a victory for Democrats?  In Fayetteville and Wilmington, incumbent mayors were re-elected in NON-PARTISAN races.  How is that a victory for Democrats? There's — unfortunately for Rob — more:
Here are a couple of observations:

The tea party is over: Skepticism about government is deeply imbedded into the American DNA. But the particularly angry anti-government movement that has grown up in recent years has run its course. The polls show that.

In Wake County, the Democrats effectively labeled the Republican school board candidates as anti-public-education tea party adherents, and it was very damaging.

The Democrats have already signaled they intend to try to stick the same label on likely Republican gubernatorial candidate Pat McCrory and other GOP candidates. The Republicans need to come up with a counterstrategy.
What polls are you talking about?  Those incredibly "non-biased" ones from far-left Democrat firm Public Policy Polling you always run?  I can kick out a poll to say whatever I want it to say by wording questions just right and cherry-picking voter samples.  People in Carrboro will tell me something a lot different from what they will tell me in — say — Asheboro.
How did The Left accomplish their effective labeling? ProgressNC — a leftist activist group funded by George Soros and BarryO-linked out of state operatives  — and former N&O staffers currently working within Democrat political organizations collaborated with The N&O newsroom to smear conservative candidates for the Wake County School Board.  School board races in off years — sadly — generate little voter enthusiasm.   School boards, county boards, and city councils have a more direct effect on our wallets and our futures than any other entity.  Yet, the alleged mainstream media (MSM)  typically downplays those races and focuses on sexier congressional, gubernatorial and presidential races.
The Left did a great job with their smear efforts and their get-out-the-vote efforts.  The MSM spent SO much time on how grumpy Margiotta was and on Heather Losurdo's resume.  What about the kids?  (Also, why are ANY school board races partisan?  )
The Democrats got their yaya back: Blame it on the beating the GOP has given the Democrats in the legislature, or on how redistricting is likely to end the careers of a large number of Democratic congressmen and legislators, or how the Wake County school diversity plan was in danger.

It is now the Democrats who are fighting mad – just like the Republicans were two years ago over the Obama health care plan. And the Democrats are putting their money and their energy where their mouth is.

Even gerrymandered districts are not always safe: The Republicans should have had a lock on control of the school board.

To flip the board, the Democrats had to win two Republican-dominated districts the GOP had gerrymandered to make even more GOP-leaning. But the Republicans managed to snatch defeat from the jaws of victory by offering in one case a grumpy old man and in another, a candidate with a very thin resume. With adequate candidates, the Republicans would have kept their majority.

Democratic ground game: Although the Democrats seemed reluctant to talk about it, the Obama organization used the fall election as a trial run in places such as Charlotte and Greensboro, although apparently not in Wake County. The Obama organization is likely to be a potent force to help the Democratic ticket next fall.
That last part is either (1) ignorance on Christensen's part or (2) an out-right lie.  Check ProgressNC's funding sources.  Check the cash and resource flow from the state Democrat Party to the school board race. BarryO's crowd has run just a *little bit * of change through the state party's bank account.  (If BarryO WAS active in Greensboro, wouldn't the election of a Republican mayor be a failure?)
No, gerrymandered districts AREN'T as safe as they used to be, Rob.   Ask Bob Etheridge and the multitude of your leftist buddies who lost their seats in the legislature last year.
I used to be a political correspondent within the MSM.  (Ol' Rob and I used to bump into each other at news events.)  I remember one time when we each were part of the press pool covering a speech in Lumberton by then-Lt. Gov. Dennis Wicker, in his run-up to  a campaign for governor.  During Wicker's speech, a uniformed Domino's Pizza delivery man entered the room and presented the lt. governor a pizza at the podium.  Stunned gasps and chuckles went up as the delivery man waited for payment.  Wicker stared awkwardly at the man, until a flunky paid the bill and sent the delivery man away.  Most of us in the press contingent were laughing as we noted the event.  (I included the episode in my coverage.) Rob sat there, angrily shaking his head, as the rest of us chuckled. Of course, he never put it in print.  (Imagine if a pizza delivery man had delivered to Heather Losurdo during a campaign speech. I am *sure* Rob would have been JUST as disturbed. )
Rob Christensen also holds the distinction of being the only member of the alleged mainstream media to be forcibly and bodily removed from a NC Republican Party event.  THIS may be key to understanding his animosity toward people with the R next to their names.