Grading McCrory's "education plan"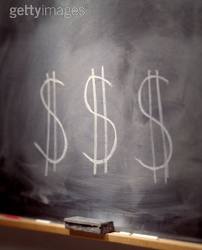 I teach at the community college level — part-time — so I get to see, up-close and personal, a lot of the end-product of North Carolina's K-12 public education system.
Public education definitely needs to be reformed.  There's no question about that.  Anointed GOP gubernatorial front runner Pat McCrory released his education platform today.  Let's take a look:
1) Give Families and Students Educational Choices

Two Paths to Success

North Carolina high schools are failing to graduate 22% of our students.
On my college campus, I run across PLENTY of students who cannot write a coherent ONE-PAGE essay, and struggle even to read the course textbook.  ALL of these students have high school diplomas.  We've got a lot more students who get that sheepskin, but really don't earn it.   READ ON:
 Young people who drop out of high school have few if any marketable job skills and are often so deficient in basic verbal and math competency as to be unable to complete a routine job application. Instead of the present system of providing only one pathway to a high school diploma, we need to reform the system and provide two. One diploma would certify a student college ready, with the necessary skills to succeed in college. The second diploma would certify a student career ready, with the necessary skills to get a job or attend a community college. With this reform our goal would be that college bound students would no longer have to take remedial courses to compete on a college level and students entering the work force would no longer lack vocational skills and core competency.
This is a nice idea, but how do you filter students into each category?  I have a friend with a PhD whose parents each only had a sixth grade education.  Just because you come from a lower-income, lesser-educated family environment, does not mean that you are not college material.  It is nice to have the option available.  Not everyone is college material.  Our schools should not be training everyone as though they all are.  READ ON:
Virtual Education Choice

National studies show virtual learners make larger learning gains and have higher course completion rates. Twenty-first century technology makes it possible for high school students to choose from a wide range of on-line courses taught by the best public school teachers from across the state. I propose offering greater access and more flexibility to local school systems to our students—public, private, and home schooled—to a wide range of for-credit, on-line courses. We should also make expanding the use of hand held technology a priority for both teachers and students so both struggling and advanced students can learn at their own pace within specific disciplines. Teaching and education can no longer be limited to lectures, chalkboards, and brick buildings.
This part sounds like it involves a BIG BILL for installing and upgrading technology in classrooms across the state.  What do you do about schools in locations with lousy cell-phone or wi-fi reception (i.e., mountain areas in the western part of the state)?  Taxpayer subsidies to providers to upgrade reception in those regions?  READ ON:
Charter Schools Choice

While lifting the cap on charter schools was a great first step, we must be careful that a slow moving process for approving new charter schools would act as a de facto cap. Therefore, we must address the thousands of families on waiting lists for charter schools in addition to the dozens of charter schools waiting to open. We must implement a process to ensure that parents and students are not left in limbo on their school options.
I have no problem here.  Letting parents move their tax money with their kids is a great idea that needs to be built upon.  READ ON:
2) Set High Expectations

End Third Grade Social Promotions

My plan for North Carolina schools is based on the expectation that our students can achieve. The first step is to stop social promotions for third grade students and create a tough-love strategy to improve literacy. Third grade is a critical time when students transition from "learning to read" to "reading to learn" in other subjects and in their life outside the classroom. In order to proceed to the fourth grade, students will be required to attain a minimally acceptable score on a state reading test. Students fall short will be given additional test-based opportunities to demonstrate reading proficiency. Students who still cannot demonstrate reading skills will be retained and provided with aggressive remediation and the opportunity to learn fundamental skills necessary for future success.
No problem here, either.  As I said — we've got people graduating from high school and heading into community colleges with 1st or 2nd-grade level reading and writing skills.  This problem needs to be nipped in the bud EARLY.
READ ON:
High School Reading and Math Guarantee

The state of North Carolina must be able to assure colleges and potential employers that a high school diploma means the student has successfully mastered a proficiency in reading and math. Too many employers today report high school graduates are unable to complete a job application or calculate change for money. Both four-year and community colleges complain that too many students advancing to higher education must be provided reading and math remediation before they are ready for college level courses. Therefore, every student entering the ninth grade will be tested for proficiency in basic reading and mathematics. Any student not able to pass the test will receive intense remedial courses to give them the tools to graduate and get a job or continue their education.
No problem here, either.  READ ON:
3) Reward Success

Better Pay for Better Teachers

Researchers identify teacher quality as the main in-school factor affecting students' academic achievement. Therefore, the most important reform North Carolina could implement would be to keep the best teachers in the classroom. Some teachers are able to ignite a spark in a student that will have an impact on his or her learning from that point forward. North Carolina is blessed with many outstanding teachers who should be rewarded for the impact they have on the lives of our young people. Every student, every parent and every principal knows who the good teachers are. We will reform our pay system to reward teachers for the job they do instead of just the number of years they teach.
Again, this is a nice idea.  But how do you implement it — fairly?  The state hands down goals for each college instructor at the beginning of each semester, such as "75% of students will get an A."   How can I — honestly — guarantee that? If a pay raise is tied to that goal, you're going to see a lot of instructors pumping up the grades they give students. ( In my classes, you earn what you earn.  I am SORRY if you were poorly served in your K-12 years.)
Read on:
4) Hold Schools Accountable

Grading Our Schools

The only way to measure success is to test student achievement in reading and mathematics in an unbiased and objective exam based on basic skills rather than curriculum. Each school's test results will be evaluated for both proficiency and learning gains of students. Half the grade a school receives will be based on student's achievement levels – the percentage of students scoring at or above grade level in reading and math. The remaining half will be based on individual student learning gains – the percentage of students who made progress in reading and math from his or her achievement level the prior year. By making progress as important as proficiency, we will provide a powerful incentive for schools to get even the most disadvantaged students moving in the right direction. Grading schools will establish transparent, objective, and easily understood data to parents, educators and the public, and will spur improvement among all schools.
This sounds a lot like the No Child Left Behind legislation from the GW Bush era.  That legislation promoted the "teaching-to-the-test" concept.  Writing and analytical skills take a beating for the sake of pumping up test scores and getting those tax dollars.
Student performance is tied quite a bit to what is happening in their home environment.  Pumping up student performance likely will trickle over into the social services arena.
One simple fix:  NO ONE gets out of school or gets a driver license without meeting basic literacy standards.   Too much of public education's focus is on scooping up tax dollars.  Looking out for the kids' welfare is a distant, distant second.  Those priorities need to be reversed in order, NOW.
It's good that McCrory is talking issues.  But the state's education problems require a lot more than a few campaign talking points.  Enacting ANY of this requires cooperation from the folks over on Jones Street.  We need to hear more from Pat, and more from legislative leaders, before taking ANY of this seriously.   This is a good start, though.
We've been promised a lot of good stuff before (1994, 2010) and have been let down after the swearings-in are over.