For UNC, Silent Sam = HATE, while Farrakhan is OK.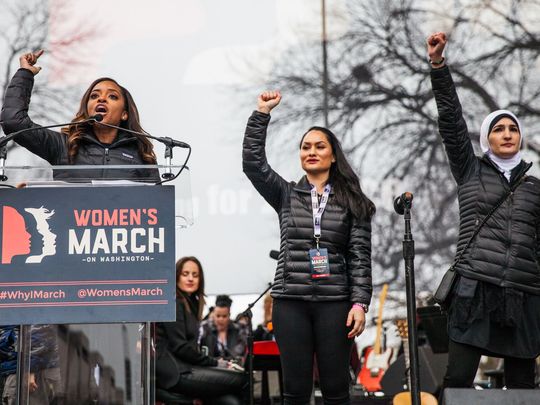 Leftists have been falling all over themselves to justify the vandalism of the "Silent Sam" war memorial statue in Chapel Hill as a way of erasing "hate" from UNC campuses.
Meanwhile, let's check out what's happening at UNC's Asheville campus:
Women's March co-president Tamika Mallory will deliver a keynote address next month as a part of UNC Asheville's annual Martin Luther King Jr. Week, the university said Tuesday.

Mallory plans to speak Jan. 24 at UNCA's Lipinsky Auditorium, about a week after the third annual Women's March takes place in Washington D.C. and communities nationwide. She was one of the organizers of the first Women's March in 2017 that drew about 500,000 people to Washington, and more than 7,000 participants in downtown Asheville.

In a news release Tuesday, Mallory said she and fellow Women's March leaders "believe that we can be the bridge to connect different groups in the name of our shared liberation." Her address caps a week the university said focuses on King's legacy through activities, workshops and a day of community service.[…]
MMM-hmm. "Shared liberation."  Now, let' take a look at what else dear sweet Tamika has been up to:
A co-president of the Women's March movement attended a rally in Chicago on Sunday sponsored by Nation of Islam leader Louis Farrakhan — only the latest incident in which she has associated with the man whom the Anti-Defamation League calls "the lead­ing anti-Semite in Amer­ica."

Tamika D. Mallory, one of four presidents of the Women's March, attended the 2018 Saviours' Day event at Wintrust Arena in Chicago, an annual event organized by the Nation of Islam. Mallory, the former executive director of Rev. Al Sharpton's National Action Network, received a personal shout-out from Farrakhan on the stage, and shared video and a photo from the event on her Instagram page.[…]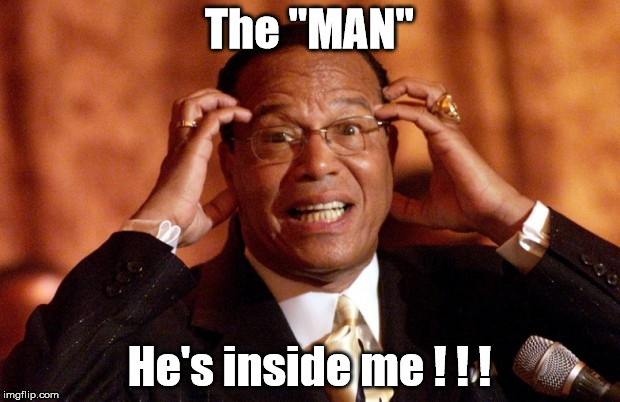 Oh, nice.  She ran Al Sharpton's race-pimp shakedown operation.  You know, "pony up six figures or we smear you up and down and left and right as racist."   Thaaaaaat's the shakedown I'm talking about. 
And a shout-out from the podium from "Calypso Louie himself ????
Oh, it gets, um, *better*:
[…] Farrakhan made multiple inflammatory comments during his three-hour speech. He claimed that "the powerful Jews are my enemy," that "the Jews have control over agencies of those agencies of government" like the FBI, that Jews are "the mother and father of apartheid," and that Jews are responsible for "degenerate behavior in Hollywood turning men into women and women into men."

Farrakhan has been known to make anti-Semitic comments for decades, including calling Adolf Hitler "a very great man" and claiming that Jews were behind the 9/11 terror attacks.

Despite this, Mallory has on multiple occasions posted on her social media platforms about attending events with Farrakhan, posing for a photo with him in 2015 and sharing the stage with him on Saviours' Day in 2016. "Thank God this man is still alive and doing well," she wrote in one post. 

It does not appear that Mallory has ever distanced herself from Farrakhan's anti-Semitic language. […]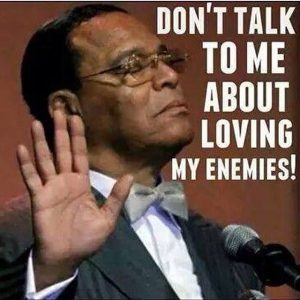 Okay.  Sooooo — a 105 year old memorial to students and faculty at UNC-Chapel Hill who lost their lives in THAT 1861-1865 conflict was so offensive it had to be forcibly torn down and destroyed.  But THIS person, likely subsidized with university funds / student fees, is fine-and-dandy to come preach her hateful nonsense on a UNC campus.
Whether the Silent Sam war memorial is about hate is highly debatable.  Whether dear sweet Tamika is about hate IS NOT.  
I mean, c'mon.  She's clearly a huge fan of a Hitler admirer who gets his kicks ranting about "satanic global jewry."
The normal people are not rioting.  Most of us are simply resigned to the fact our tax dollars are regularly shoved right back in our faces in as disrespectful a manner as possible.
It certainly will be interesting to see if lefties can be consistent in their crusade against "hate" by saying HELL, NO to people like Tamika.