Folwell: Cooper needs to do "the right thing"
Tyrrell County is one of the state's more impoverished localities.  The county, and the city of Columbia,  committed to 40 years of debt to build and supply water and sewer to a local industry and a prison facility.  The industry has shut down.  And now the administration of Governor Roy Cooper has closed the prison.  The county and the city have 33 more years of debt to pay, and Team Cooper has snatched a significant generator of the revenue slated for paying said debt.
So,  state treasurer Dale Folwell is stepping in:
State Treasurer Dale R. Folwell, CPA, has asked the Cooper Administration to pay $304,735.73 representing the estimated water and sewer payments that would have been made to Tyrrell County and the Town of Columbia from the State of North Carolina for the first five months of this year. In September of 2019, the Department of Public Safety (DPS) closed the prison in Tyrrell County, citing staffing shortages of corrections officers and prison personnel. […]
Curious.  Lefties are quite often hollering about "prison overcrowding," and here we are closing a prison facility.
MORE:
[…] The closing has had severe economic consequences for Tyrrell County and the Town of Columbia because the prison is the largest customer of the water and sewer system, representing approximately 30% of the system's total output.

"I'm very concerned that the closing of the prison in Tyrrell County could lead it to default on bonds that were issued to build the system including a reverse osmosis water treatment plant," said Treasurer Folwell. "The state should hold harmless local governments like Tyrrell County and the Town of Columbia." […]
In the short term,  this mess will likely cause water and sewer users in Tyrell County to see their bills skyrocket.  Another example of taking action without considering the long-term consequences.  Kinda like shutting down the state's economy to "protect" us from a virus, while killing off a lot of small businesses and putting a record number of people into the unemployment lines.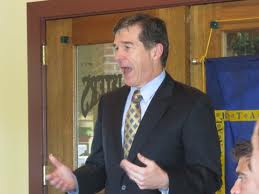 MORE:
[…] When the prison opened in 1998, bonds were issued to build sewer lines in support of the new facility. With the decrease in revenue, both the Town of Columbia and Tyrrell County are in jeopardy of defaulting on their loans.

Default could lead the Local Government Commission (LGC) to take over the management of the county and town.The LGC was created in 1931 to address issues in local government finance that arose during the Great Depression. Since its inception, the LGC has provided consistent financial oversight for more than 1,300 units of government.

"It is hard to overstate the damage that the state's actions have done to this community," said Treasurer Folwell. "Tyrrell's entire population is the size of a high school in Charlotte. So often it is the state's lower- and fixed-income citizens that bear the burdens of decisions coming out of Raleigh. The first rule of government should be to 'do no harm.'' […]