Duke University. Sex toy demonstrations. (Yee-ha.)
(Insert your most inappropriate Duke-men's-basketball-team-related comments here.)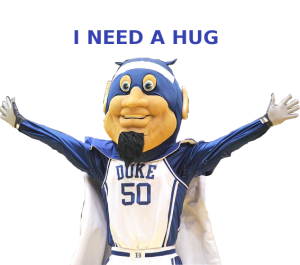 Granted, Duke is NOT a public school. (But it is kinda funny.)  And it still ought to really tick off anyone busting their rump to pay the astronomical tuition to attend that place when they're funding crap like this: 
Duke University is spending more than $17,000 on a health center that demonstrates how to use and acquire sex toys.

The Peer Advocacy Sexual Health Center (PASH), which officially opened Friday evening, is funded through a $17,252 allocation from the Duke Student Government (DSG) Surplus Account, which includes $5,000 for sexual health products and $10,000 for both sexual health and "sexual pleasure products," according to The Daily Chronicle.

[…]

In addition to lubricant, dental dams, and condoms, PASH also has a variety of sex toys and vibrators available for "demonstrative" purposes, with information available for those who are interested in purchasing their own versions.

[…] 

"We're still trying to figure out what specific niche on campus we're going to fill," DSG Executive Vice President Ilana Weisman told The Daily Chronicle at the center's grand opening, though she did note that "we're hoping to be an after-hours location."
Sex toys.  Filling a niche.  *WHERE are Beavis and Butthead when I need them?*  MORE: 
The center also has 16 "peer educators" tasked with teaching students about sexual health and providing guidance on purchasing sex toys, as well as moderating discussion groups where students can talk about sex with peers rather than adults.
Students talking to each other about sex. *Isn't that what a frat party is for?* MORE: 
[…]PASH funding became subject to some haggling last semester, when the DSG passed a bill reducing the center's allocation to $12,762, with just $500 earmarked for sexual pleasure products.

[…]
(*SIGH*)
The NEXT time somebody wants to try and tell you people who go to Duke are so much smarter and better than the rest of us — send them this article.