Did Thom Tillis torpedo bid by Justice Newby's relative to join UNC BOG?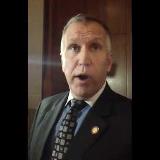 I had a rather interesting conversation today with a fellow who has a LONG track record of influence in North Carolina Republican politics.
He  says Wake County conservative leaders AND religious right figures around the state are up in arms over House Speaker Thom Tillis's apparent efforts to block Joe Knott from being appointed to the UNC Board of Governors.  Knott, a Raleigh attorney, is the son of a former Wake County commissioner, was an assistant US attorney in North Carolina during the Reagan administration, was  the 2004 GOP nominee for Attorney General, and IS the brother-in-law of NC Supreme Court Chief Justice Paul Newby. 
My source was a bit hot under the collar:
"This is just inexplicable.  Joe had endorsements from more than half of the Republican caucus.  Then, like that, he was off the list.  All signs pointed to it being Thom Tillis's handiwork.   Joe Knott has a reputation as a man of great  faith and integrity.  Joe is just the kind of person that board needs, given all of the mess that has been going on lately in the UNC system."
My source tells me that Knott holds graduate and undergraduate degrees from UNC-Chapel Hill.  Knott has become a respected figure within the state's Christian community through his 30 years leading a Raleigh-area Bible study as well as through leadership roles in his local church and in the Southern Baptist Convention. 

My source tells me that Knott and his supporters are not going to wait around for an explanation from Tillis.  Several prominent Wake County residents, and a group of state senators, are reportedly working to get Knott appointed to a seat on the UNC-Chapel Hill Board of Trustees.