Democrats flex muscle, build up electoral insurance policy in North Carolina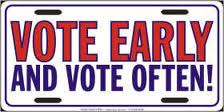 The Democrat majority on the NC state board of elections has voted to dramatically expand early voting in predominantly Democrat areas over the strenuous objections of Republicans.   The number of days for early voting has been expanded.  The hours for voting each day have been expanded.  More early voting locations — mostly in predominantly Democrat areas  — have been added.  They even approved early voting on Sundays within black churches.  Not one dime of additional funding has been approved for any of this:
The State Board of Elections ordered the Wake County Board of Elections to open a new early voting location during a hearing today.

Wake County's was one of several early voting plans appealed to the state panel. In each case, one member of a panel's three-member board asked state board members to rework the county early voting plan.

And in virtually every case, the three-member Democratic majority on the state board sided with local board members asking to add more locations or hours to the early voting period. In all but one case, the two Republican members of the state panel opposed such moves. 

In Wake County's case, local board member Kristi Tally, a Democrat, appealed, saying that the new plan did not allow for more early voting hours than in 2008 despite the fact the county's population had grown over the past four year. She said over-taxed early voting locations will lead to people being unable to vote.

"The burden of this impact will be felt most acutely by members of low income communities," she told the state board.

But Joshua Howard, a Republican member of the local board, said that Wake County had opened as many locations as it could with the budget it have. He noted that one Republican and one Democratic member voted to approve Wake County's plan.

"We do not have any more machines to put at a 16th site," he said.

But the argument that the county was out of money did not appear to sit well with state board members.

"It appears to me that your plan puts an undue burden on my right to vote," said Ronald Penny, a Democratic member of the state board.

Voting 3-2, the state board ordered Wake County to change existing plan as follows:

A new early voting polling place will be added at the former site of Elevation Baptist Church on Highway 64.
All Raleigh and Cary early voting locations will be open on Oct. 18 and 19. Under the original plan, only the downtown county board of election office would have been open on those days.
On Saturday Nov. 3, all early voting locations will be open from 11 a.m. to 5 p.m.

The state board also adjusted early voting times in Anson, Craven, Hoke and Forsyth counties and rejected a request to roll back Sunday voting hours in Pamlico County.

Early voting and one-stop voting have provided prime opportunities for voting irregularities and outright cheating.  *It's so much easier to perpetrate monkey-business without all of those nosy poll-watchers around. *
Just a couple of years ago, the results in  a race for the Lumberton City Council in a majority-minority district were overturned due to massive improprieties found in early voting and one-stop ballots.  The state ordered a new election.
Why not schedule voting from 7am to 7PM on one day?  If you can't make it that day, fill out an absentee ballot.  What is so hard about that?
The RNC and the NCGOP need to take a good hard look at this move by the state board and consider taking some action.  If they're not careful, this crowd will steal the election right from underneath their noses.