Coronavirus saving Cooper?
It's amazing — no, make that disgusting — how many lefties are out there seeking political opportunities and advantage from the ongoing pandemic.
We've tried our best to shame and out many of the reprobates engaged in such behavior.  Now, it appears The New York Times and our Goofy Guv are jumping into the fray:
[…] Gov. Roy Cooper of North Carolina is a mild-mannered Southerner who slipped into office in 2016 after a backlash over an anti-transgender rights law. He is a Democrat who has largely been thwarted by the Republican-led legislature, and is in search of a second term in a state with an energized Trump base.

Mr. Sununu and Mr. Cooper face two of the most competitive governor's races in the country this year out of 11 on the ballot. But even as they paddle against the political currents, their handling of the coronavirus outbreak has won bipartisan support. As governors nationwide see their favorability rise for taking charge in a time of crisis, those facing voters in November may benefit beyond the usual blessings of incumbency.

In contrast to President Trump, whose approval bump during the health emergency has been modest by historic standards and is rapidly fading, governors are experiencing strong support for providing sober updates of new cases and hands-on guidance like how to apply for unemployment checks. Once dull gray figures to most voters, governors have emerged as political stars thanks to daily news conferences and the gravity of the health emergency. A Monmouth University Poll published Wednesday found that 72 percent of adults nationally thought their governors were doing a good job handling the virus.

"I think the governors are closer to the sun, closer to the voters; when you're leading in a time of crisis it's very relevant to them," said Morgan Jackson, Mr. Cooper's political strategist. The approval may diminish as the election heats up in October and voters retreat to their partisan corners, he said. "But governors are in a better position even than a United States senator and the president to take advantage of this time."[…]
 
"Take advantage of this time."   Wow.   We've got people dead and fighting for their lives as the result of this pandemic.  And Roy Cooper's paid mouthpiece wants to giggle about "tak[ing] advantage of this time.  Time and again,  liberals have pledged publicly (and privately) to "never let a good crisis go to waste."   For a crowd that claims to have cornered the market on "compassion,"  they sure do take great pleasure in crises and great suffering.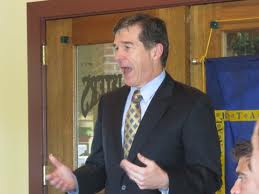 MORE:
[…] In North Carolina, voters shared in interviews this week the anxieties of Americans everywhere, concerned about dwindling savings, long waits for small-business relief and unemployment benefits, and a lack of testing for the virus.

But even people who want to re-elect Mr. Trump praised Mr. Cooper's stay-at-home order of March 27, which at the time was only the second by a Southern governor. On Thursday, he extended the social distancing mandate, limiting the number of people who can be in stores and placing restrictions on nursing homes.

"He's doing everything in his power to keep everyone as safe as possible," Matthew Greene, a political independent, said of Mr. Cooper. A small-business owner in Winston-Salem, who voted for Mr. Trump and is likely to again, Mr. Greene, 34, added: "I don't think anybody's thinking about who to vote for right now. They're looking for answers and safety and whoever's going to make them feel safe is who they'll vote for."

Polls show Mr. Cooper's job approval has climbed to the mid-50s, up 10 points from the first three years of his administration, which counts as a healthy advantage in a state split down the middle politically.

Melissa Spurling, a behavioral therapist in rural Belwood, N.C., is a strong supporter of Mr. Trump's but said that Mr. Cooper was doing a good job — because "he's taking his lead from the president," in her view. Mr. Trump first advised Americans to keep children home from school and avoid restaurants, unessential travel and gatherings of more than 10 people on March 16. That was 11 days before Mr. Cooper issued his more sweeping stay-at-home mandate backed by the power of law enforcement.

Ms. Spurling, 49, is open to voting for Mr. Cooper over his Republican challenger, Dan Forest, who has been largely eclipsed by the governor during the crisis. "I haven't heard anything positive about him," she said of Mr. Forest, who is the lieutenant governor. "At times like this you don't really hear about other politicians except for the ones in office."[…]
Her last sentence hits the nail on the head.  Roy Cooper is Mr.  Right-Place-Right-Time.   That was true for the Duke lacrosse case when he was AG, and it's true now.  Granted,  Forest is IN office.  Unless Cooper becomes incapacitated (or indicted),  Dan Forest's job description gives him little influence on the workings of the executive branch of state government.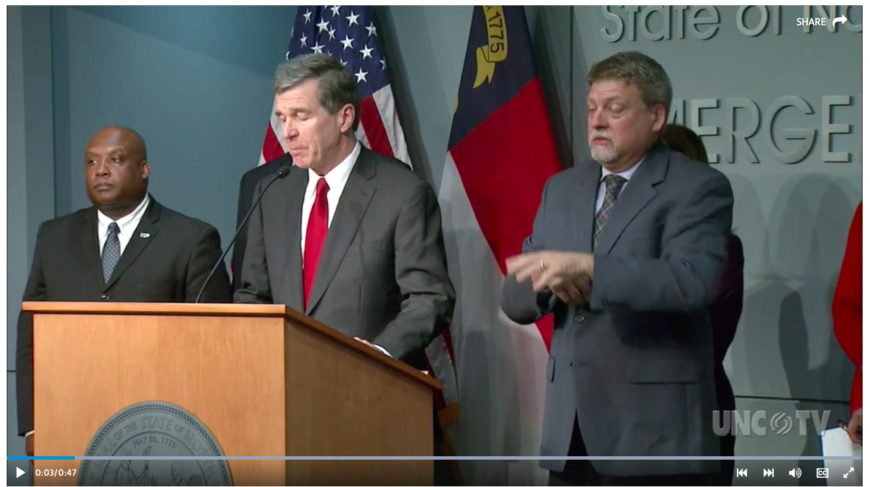 Cooper's daily press conferences are easy-peasy low-hanging fruit for the state's lazy drive by media.  The other day, Cooper made the front of  The N&O for leaving a sanitary wipe on the door handle where he entered the press briefing room.
Now,  this driveby wants to leave the pandemic and get back to the governor's race:
[…] Mr. Cooper's race in North Carolina is rated "lean Democrat," the most competitive of all the incumbents' contests.

His Republican opponent, Mr. Forest, is a social conservative who strongly backed a 2016 law that required people to use public bathrooms corresponding to the gender on their birth certificates. After it became a target of national ridicule and boycotts, Mr. Cooper made its repeal a top campaign issue. He narrowly defeated Gov. Pat McCrory, the only Republican governor to lose in 2016. The bathroom law, known as H.B. 2, was tossed out.

Many North Carolina voters split their tickets in 2016, voting for both Mr. Trump and Mr. Cooper because of opposition to the bathroom law or a desire to put a check on the Republican legislature. It is unknown how many of those Trump voters will stick with Mr. Cooper this year.
Let's not forget the 2016 incumbent Republican's anemic reelection campaign,  the incumbent's disrespect of key pockets of his party base,  and all those after-midnight votes magically appearing in The People's Republic of Durham.
MORE:
[…] One of them, David Lindsay, a mortgage loan officer for a bank in Cabarrus County outside Charlotte, said he would "reluctantly, most likely" vote for Mr. Trump again. "I'm aware he's an idiot and sticks his foot in his mouth, that's no shock," he said. "But I think a lot of the time he does have the United States' best interest in mind." He said Joseph R. Biden Jr., the presumed Democratic nominee, "seems to be stumbling and not knowing what he's talking about a lot of the time."

Mr. Lindsay, 37, was undecided about the governor's race. "I do think Governor Cooper has done a pretty good job since he's been in office," he said, including his handling of the coronavirus. "I almost wish it would have been a little stricter. If this thing is as bad as everybody reporting it thinks, we have to nip it in the bud."

In mid-March, Mr. Forest opposed an order by Mr. Cooper to close bars and restaurants to combat the virus, citing economic fallout. A spokesman for Mr. Forest declined an interview request, saying the candidate has paused campaign activities since the outbreak. "We will continue to monitor the situation and at some point will get back to basics," the spokesman said.[…]