Cooper aims LOW at Folwell
You would think revelations that his transportation department is overspending by $2 billion and possibly broke the law would concern him.   But we're dealing with a guy who sat in the AG's office for sixteen years doing absolutely nothing — stumbling into the governor's office in 2016 thanks to all that midnight voting in The People's Republic of Durham:
[…] The NCDOT defended the Secretary in an emailed statement.

"Secretary Trogdon is focused on continuing to deliver critical projects in every region of the state and implementing improvements to our internal processes to continue to improve what we do for the people of this state while operating within our cash window," said the NCDOT in a statement to NSJ.

The Governor's office didn't respond to Folwell's allegations but instead criticized Folwell.

"A financial lecture from the nation's least effective state Treasurer, who boasts among the worst fiduciary return on investment and raised the cost of healthcare for state employees during his tenure, is not credible," the governor's office said in a statement.[…]
When it comes to finance,  Dale Folwell is head-and-shoulders above Roy Cooper, Kristin, those daughters, and everybody in his office staff and on the mansion staff COMBINED.

When folks respond to serious, detailed allegations with basically  'nanny, nanny boo-boo' — you pretty much KNOW you've GOT them. Even the brain trust on NC Spin hit the governor's office's response with such adjectives as 'infantile,' 'immature' and 'childish.'
One would hope that serious questions about the handling of the people's money would warrant something a little more serious than political tit-for-tat.  But look at what we've got to deal with in that big house on Blount Street (for at least one more year).  There's nothing TO Roy Cooper.  He is a creation — a by-product of his political handlers.  Nothing more.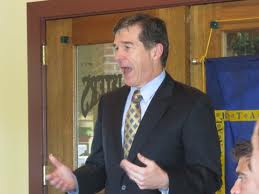 It's a real black mark on the NCGOP leadership that this guy hasn't been (a) exposed as the buffoonish fraud he is, and (b)  reduced to a pile of jello by now.