Coming SOON to a loo near YOU? (EWWW.)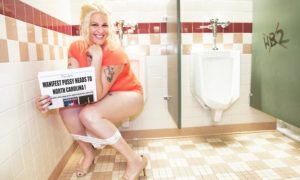 Don't say we weren't warned:
Apparently it's really quite difficult to use a urinal – if you're a woman. But actress Shakina Nayfack is sure going to try.

All over North Carolina (and Facebook), in fact. So if the men doing their business up against the wall there are suddenly joined by a busty blonde in a frock, don't be too shocked – remember, it's the law.

Nayfack is happily and successfully living her womanly life in New York but her birth certificate says "male", so according to the new laws in North Carolina she is effectively banned from female public restrooms in that state.

She's so peeved, she's mounting a rebel tour. And from the Capitol in Raleigh to the gas stations of Greensboro and cafes of Charlotte, she plans to tinkle in men's toilets galore, tweeting and taking selfies as she goes.

"Hovering over a urinal is actually very tricky. I'm going to need a lot of Purell," she said.[…]
(*SIGH*.  If they're going to send someone into our locker rooms and bathrooms, why can't they send, say — Dina Meyer or Denise Richards from Starship Troopers –instead of this, um. THING? )  But, wait, there's MORE: 
[…] She could scuttle into a stall and hope no one notices, of course. But that's not the point.

"They are trying to create a situation where trans people are supposed to be invisible. This is an absurd, panicked reaction from the ignorant, it's a massive step backwards, so I felt it was my duty to go down there and take selfies in as many men's bathrooms as possible," she said.

The North Carolina law, known as HB2, effectively outlaws people from using the public bathroom that reflects their gender identity if that does not match the sex stated on their birth certificate.

It also blocks local authorities in the state from instituting wider anti-discrimination laws, sparked by Charlotte ordinances designed to protect people from bias based on their sexuality or gender identity.

The US Department of Justice has told North Carolina the new regime violatesfederal civil rights law and has given the state until Monday to abandon the legislation.

Republican leaders are refusing to do so, with Tim Moore, the speaker of the state house of representatives, saying on Thursday: "That deadline will come and go."

Shakina Nayfack now plans to come to North Carolina and go in urinals across the state as a form of renegade performance art, in conjunction with staging her new one-woman rock musical Manifest Pussy, which tells the tale of her gender journey.[…]
*Oh, gee, where oh where do I get tickets ??????*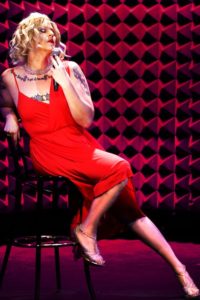 Hmmm.  Once again — my theory is proven. With the exception of our two in-house lefties on this site, liberals CANNOT stay away from vulgarity or graphic discussion involving certain very personal anatomy or bodily functions when partaking in political debate.