Charlotte tholl road deal unraveling?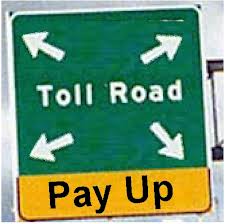 We've been following the drama around the plan to toll drivers on a stretch North Mecklenburg's I-77 since Senator Thom was merely Speaker Thom. It's been  amazing.  Despite the tremendous outcry from area residents and local governments, state government has been pushing forward with a public-private partnership with a Spanish firm to expand and manage a stretch of I-77 via tolls.
Stories have emerged about the Spanish firm being entangled in a pay-to-play scandal in Europe.  The debt for the project has been classified at 'junk' level.  Activists fighting the toll project have discovered the Spanish firm's contract with NCDOT contains enough loopholes to possibly allow the Spaniards to avoid sharing ANY revenue gained from the tolls with the state of North Carolina. 
"Blood-and-Guts" Carrington over at Carolina Journal has a piece raising possible  state constitutional issues with the I-77 toll deal: 
Even though Gov. Pat McCrory has said the tolling project along the Interstate 77 corridor north of Charlotte will go forward, it faces a challenge to its constitutionality, as well as allegations the contractor did not meet full-disclosure requirements.

The lawsuit, filed in January by the nonprofit organization Widen I77, claims the deal violates the state constitution. Among other allegations, the lawsuit charges that the General Assembly delegated too much authority to the N.C. Department of Transportation, which will allow the contractor to set toll rates without legislative oversight.

In addition, the lawsuit claims a provision in the contract for NCDOT to compensate I-77 Mobility Partners LLC for state and federal tax liability if the state terminates the contract also is unconstitutional.

NCDOT closed the deal with I-77 Mobility Partners on May 20 to build what is officially called the I-77 Hot Lanes Project. The 26-mile-long project, running from Charlotte to Mooresville, is expected to cost $648 million.

Mobility Partners will set toll rates, collect the tolls, and — for the most part — keep all the proceeds. This would be the second toll-road project built in North Carolina and the first using a public-private partnership.

In addition to the lawsuit, Diane Gilroy, a Cornelius resident and a Spanish professor at UNC-Charlotte, lodged complaints in July with Attorney General Roy Cooper and NCDOT Inspector General Mary Morton, claiming that the parent companies and affiliates of I-77 Mobility Partners failed to disclose fully all past legal problems as part of the bid process. An NCDOT spokesman acknowledged that the agency is looking into her concerns.

Opponents of the project want the state to build additional lanes without charging tolls, and pay for them using existing funding mechanisms or with highway bonds McCrory has proposed.

Robert Poole, director of transportation policy at the Reason Foundation and a longtime advocate of privately financed toll roads, told Carolina Journal he continues to support the project as a way to relieve congestion along that segment of I-77. He also acknowledged that the proposal had significant opposition. "This is perhaps the most in-depth opposition to a toll project I have seen in the country," he said. […]
Cornelius resident Diane Gilroy went as far as traveling to Spain to probe the Spanish contractor's woes:
[…] Opponents of the I-77 toll project may have just gotten a needed break as a result of documents revealing that Cintra, the subsidiary of parent company Ferrovial, failed to disclose in required contractual documents that its affiliate was being investigated for breaking Spain's anti-trust laws. Ferrovial's waste management subsidiary called Cespa had their offices raided in 2012 and 2013, yet failed to disclose those investigations as required by the NCDOT's Request for Proposal (RFP) process in 2014. As a result of those investigations, Cespa (Ferrovial) was fined more than 13.6 million Euros (approximately $15 million USD) for engaging in market sharing and collusive activity.



Journalist Baltasar Montaño explained in Spain's January 28, 2015 digital publication Vozpópuli how the "garbage cartel" was rigged. He explained, the CNMC [Comisión Nacional de los Mercados y la Competencia – Spain's National Commission of Markets and Competition] went through thousands of emails from companies like Ferrovial, FCC, ACS, and Sacyr in which they divided contracts, clients, territories, and they expelled possible competitors among other illegal practices.



"A 198-page document by Spain's CNMC dated January 8, 2015 details the investigations, scandalous emails and documents showing collusive joint agreements between Cespa (Ferrovial) and others," said Diane Gilroy, a local Spanish professor who recently traveled to Spain and researched Cintra's parent company Ferrovial. "Because Cintra failed to disclose this serious anti-trust investigation that Ferrovial/Cespa was notified of by the CNMC in 2012 and 2013, the toll contract documents signed in 2014 between Ferrovial and the NCDOT are likely invalid and the so-called $100 million penalty is baseless."
Current US senator — and North Meck resident — Thom Tillis was one of the most powerful state government officials at the time this deal was being pulled together between the state and the Spanish firm.  Reports surfaced during the US Senate campaign that the consulting firm that aided Cintra in obtaining the deal was being represented by Tillis's brother-in-law's Mssachusetts-based law firm. 
It would be interesting to learn more about private discussions that occurred, in reference to this deal, between Tillis, his brother-in-law, Governor — and fellow Charlottean — Pat McCrory, and the governor's emissaries.  Hopefully, North Meck residents and North Carolina taxpayers are not being saddled with this stinker of a deal all because of a cronyistic, sweetheart deal between politicians.