Campaign 2017: Golf gloves are coming OFF in Pinehurst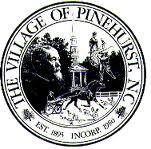 Things are generally very cordial here in our little corner of paradise. Rolling green fairways.  Mild weather.  Little to no crime.  Neighbors that offer a friendly 'how-do' when you pass by. 
Local elections here are normally quiet affairs.  Folks are polite. After all, they WILL be seeing each other later at the cocktail parties around town (and on the golf course).  Things got a wee bit rough during our 2015 elections for mayor and city council.  nasty mailers.  Nasty ads.  Nasty letters-to-the-editor. 
Well, the golf gloves are coming off. 
It sounds and looks like 2017 will make 2015 look like patty-cake.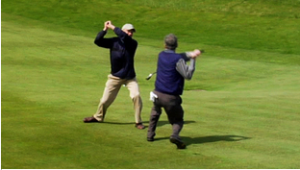 We've got a faction here in town that is angry about approval of a redevelopment project.  They've made all kinds of accusations and put up TWO candidates for council seats. (Two seats are up this year and EIGHT folks are slugging it out for those seats.)  The faction ran an ad in the October 15 edition of our local Pulitzer Prize winning thrice- twice-weekly local paper that appears to have touched a raw nerve in some council candidates AND our incumbent mayor. Here is Queen Nancy expressing her displeasure: 
Can a candidate run on "ethics" while being unethical?

Following the Pinehurst Civic Group's candidate forum, board member Victoria Adkins called some (perhaps all) of the candidates and asked them if they were in favor of a recall election of council members — an issue brought up by 120 citizens in our community.

Adkins did this after the president of the PCG refused to use this politically charged question at the forum.

On Sunday, Oct. 15, candidate Bart Boudreaux published some candidates' answers to the recall and other questions in a convenient yes-or-no format. The information gleaned by Adkins was not shared with all candidates — but obviously was shared with Boudreaux to be published in his full-page ad.

Some troubling issues arise from this ad. First, is the PCG still neutral in elections? Should a member be allowed to solicit, by phone, information under the guise of the Civic Group, then share it with the candidate of her choice?

Most issues that come before the council require study and discussion. Most do not have simple yes-or-no answers but depend on many and varied factors.

As mayor, I will be working with one and perhaps two new council members. I have a keen interest in how they stand on issues. Both Drum and Larsen dispute under what circumstances this information was collected and the validity of their "yes" answers (again, there is more to that recall question than a yes or no).

After this questionable full-page ad, voters should carefully scrutinize both this candidate's ethics and integrity while claiming that "ethics matter."

Nancy Fiorillo, Pinehurst
And THAT led to this follow-up in our spectacular Walter Duranty award-winning local paper:
[…]Fiorillo also accused Victoria Adkins — her husband, Kirk, is Boudreaux's campaign treasurer — of using her position as a board member of the Pinehurst Civic Group to gather answers from Drum and Larsen for the ad, in effect making it appear the group was choosing sides in the election.The Civic Group traditionally has never endorsed individual candidates.

Adkins vehemently denied Fiorillo's accusation, calling it "disturbing" and that she "found it inexcusable to make such serious, unfounded accusations" against the civic group.

Jo Valdes, chairwoman of the Civic Group, emailed a statement to The Pilot Tuesday morning about the matter:

"The board of the Pinehurst Civic Group avows its non-partisan status and denies any involvement in the activities of this election issue. It appears to be an issue for the candidates to resolve themselves and not argued in the media by non-involved third parties."

Both Drum and Larsen say their positions were misrepresented in Boudreaux's ad, and Boudreaux has offered to run another full-page ad retracting any incorrect information, provided they approved the wording.

Drum said Tuesday morning that he has no intention of approving any kind of retraction ad by Boudreaux.

Larsen said in a statement to The Pilot that he "vehemently disagrees with the underhanded way" Boudreaux obtained information for "his negative ad." […] 
And then comes the conspiracy theory:
[…] Meanwhile, following Fiorillo's letter, Boudreaux on Monday filed a public records request with the village seeking emails, texts and voice mails from  public and private accounts as well as any documents between Fiorillo and Drum and Larsen, as well as all council members referencing Boudreaux's ad, Victoria Adkins, the Pinehurst Civic Group, and Larsen and Drum. It asks for all records from Sept. 28. That's the date of a Pinehurst candidates' forum sponsored by the League of Women Voters of Moore County.

Boudreaux said in a statement to The Pilot Tuesday that he wants to get to the bottom of where Fiorillo got her information for her letter.

"The mayor made some serious accusations about me, and I don't take these defamatory comments lightly," he said in an email. "I'm confident my public records request will identify all of the sources of this false information."

Village Manager Jeff Sanborn said Monday afternoon that the village would try to provide the records from Sept. 28 through Monday within a week "if possible, depending on the amount of records involved." He said the records and documents will first have to be screened by Village Clerk Lauren Craig and then Village Attorney Mike Newman to ensure they do not contain any confidential "attorney-client privileged" information.

The village employed a similar process in responding to a massive public records request filed by Pinehurst Matters — a group Boudreaux helped start — over the council's approval of the Greens apartments in June 2016.

When asked where got the information for his original ad, Boudreaux said some of it came from the public records of how Berggren and Drum and Larsen, who both serve on the village's Planning and Zoning Board, have voted on certain issues. He said the information on the question of the recall election issue came from Kirk Adkins.

Victoria Adkins said in her statement to The Pilot that she "absolutely did not in any way" ask Drum or Larsen about their position on the recall provision acting as a board member or "agent or in any capacity whatsoever associated with the Pinehurst Civic Group."

"I did ask them their position on the recall provision, but I did so as an independent voter and I very clearly communicated such to them," she wrote. "Mr. Drum and Mr. Larsen have chosen to run for public office. Their websites and/or Facebook sites openly invite voters to ask them their position on issues.  I took them up on their offer.  I assumed that any information they provided to me as a voter was not confidential nor to be kept secret.

"Ms. Fiorillo was a third party to these conversations that I had with Mr. Drum and Mr. Larsen. Ms. Fiorillo did NOT call me or in any way attempt to ascertain my perspective of these conversations. She jumped to an incorrect conclusion, based on only one side of the story."

Adkins concluded that she was not concerned about the "derogatory comments made" about her.

"But I find it inexcusable for Ms. Fiorillo to make such serious, unfounded accusations against such an historically important, community-minded, volunteer organization, the Pinehurst Civic Group." 
Then, there was talk of a retraction. Or an apology, of sorts:
[…] Boudreaux provided a copy of an email he sent to Drum on Oct. 19 after learning about his objections to the advertisement, particularly on his "yes" answer to supporting the inclusion of a recall election provision in the village charter and his request for "an apology or retraction."

"You stated that 'Ethics Matter,'" Boudreaux wrote in response to an email from Drum. "I could not agree with you more. In fact, my campaign is prepared to issue an apology to you regarding our representation of your position on the recall provision."

He included an attachment with the proposed ad that his campaign would run in The Pilot pending Drum's approval, as well as that of Larsen. 

"I sincerely apologize," Boudreaux wrote. "I look forward to receiving your approval at your earliest convenience so this advertisement can be placed before the election."

The proposed text of the ad relating to Drum states: "Drum was asked his position on the Recall Provision by a voter. Mr. Drum disputes the details of the discussion with that voter and we therefore retract his position stated in the ad."

Drum issued a response to Boudreaux in an email late Tuesday morning, which he shared with The Pilot.

"I appreciate the gesture and I am all for civility and apologies, and I would love to accept it and move on, but I not only do not accept and approve of your apology and challenge every aspect of the ad you ran," Drum wrote. "I think further printing of the ad with a photo of me and inaccurate information should cease and desist. It's an over-simplification in some instances and it's factually wrong in others. So approving inaccurate information is like approving nonsense." 

Drum said in an interview that he did tell Victoria Adkins, who called him shortly after the Civic Group candidates' forum ended Oct. 3 to ask him about the recall, that it was not a "simple yes or no answer."

"I had a complex answer for the recall issue," he said. 

Drum said he could support it for such things as "criminal misconduct" and as long as there is a "high threshold" for voters to request one. He added that it should be done as part of a regular election so it would not mean an added cost to the village.

He said he was under the impression that Adkins was calling in her capacity as a Civic Group board member, since she first thanked him for participating. He said she apologized to him in a later phone call after the ad was printed if there was any "confusion" on his part, and that she asked him about the recall issue as a personal matter and a concerned voter, not as a Civic Group board member.

"I am not happy with what happened," he said. "I think this is very unfortunate. I did accept her apology."

Both Drum and Larsen criticized Boudreaux's mischaracterization of their positions and what they termed negative campaigning.

"Although I completely disagree with Bart's approach to the problem, specifically his attack on my volunteer voting record, I do understand where his frustration stems from," Larsen said in a written statement to The Pilot Tuesday. "In fact, this is the same frustration that all too many residents feel towards or about the current Pinehurst Village Council …."

Larsen said he called Boudreaux after the advertisement appeared to question him about where he got the information, particularly on the recall issue, and was told it came from Kirk Adkins.

Larsen said the only person he spoke to about the issue was Victoria Adkins, who called him the day after the group's candidates' forum to explain that they did not have enough time to ask questions the night before. Adkins, according to Larsen, said that the PCG wanted to get all candidates' positions on the recall provision. He took that to mean she was speaking for the Civic Group.