Nope, we're not talking about either of THESE two chuckleheads.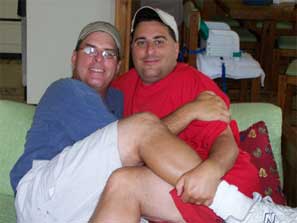 This one is Michele Woodhouse, married to Dallas and Brad's cousin Eddie.  She's a former congressional district chairman and congressional candidate who is reportedly taking a serious look at the NCGOP state chairmanship. 
There has been no word on whether Michael Whatley will seek reelection as party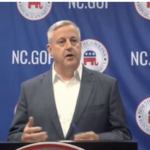 chairman.  His run for RNC vice-chairman was an utter disaster.  He's been an outspoken defender of Thom Tillis and has presided over a statewide decrease in registered Republicans and Republican Members of Congress.
Will Knecht of the New Hanover County GOP is reportedly the establishment favorite to succeed Whatley. 
The two most famous Woodhouses have not been very good for conservatives.  But Michele appears to be an outlier in the family.  She has emerged as a leading critic of Thom Tillis and an advocate for his censure.  She is a vocal supporter for keeping the GOP platform, and the party as a whole, conservative.
We've had some contact with her here at Haymaker HQ.  So far, we see her as a radical, refreshing polar opposite of both Brad and Dallas.
Michele Woodhouse has been active in the NCGOP for two decades.  She and her husband Eddie Woodhouse were fixtures in Raleigh when Eddie served on the Raleigh City Council.
They now split their time in the mountains (Henderson County) and at the coast (Carteret County). 
More recently, Michele was the Chairman of the NC-11 Congressional District, where she also ran for Congress in 2022.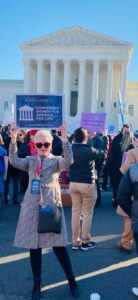 She is active in NC's Federation of Republican Women.  She was a state delegate at both the 2016 and 2020 National Conventions.  Michele records podcasts as a pro-life guest host on
the Steve Noble show
and she does frequent North Carolina political interviews.
Michele is a prominent grassroots voice in the western counties.  She supports measures to hold elected officials (like Thom Tillis) accountable to their oaths of office and the state party platform.  She is a strong pro-life advocate.  Michele is focused on growing the party base and making NCGOP internal proceedings much more transparent to the rank and file volunteers.
A Michele Woodhouse run could prove interesting.  But, remember Hasan Harnett.  Only changing out the top two positions doesn't "fix" the party.  The party HQ building needs to be fumigated, and a statewide purge of party officials at the local and regional levels needs to happen.  If it doesn't,  the elected reformers can simply be slandered and run off like Hasan was.