And THESE people are teaching our children …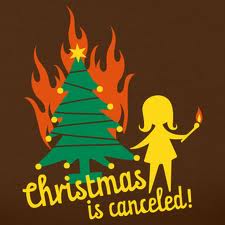 Massachusetts is getting quite the reputation for raising the bar on left-wing kookiness.  Just when you think those people couldn't get any wackier, THEY DO. Apparently, some local school officials in Massachusetts are banning Santa Claus from their classrooms out of religious concerns.
(Yep.  Santa was there at the manger with Joseph, Mary, the shepherds, the wise men AND baby Jesus.  The wise  men weren't actually following a star — it was actually Rudolph's glowing red nose. )
Todd Starnes, with Fox News, had the story:
A Massachusetts school system is embroiled in a war on Christmas debate after Santa Claus was initially banned from visiting elementary school children over "religious" concerns.

Since 1960 firefighters in the town of Saugus dressed up like Santa Claus and visited every elementary school handing out coloring books. But on Monday, the school superintendent told firefighters that they would not be welcomed into the classrooms.

"Certainly everyone acknowledges their holiday in a special way they want. But there is a conflict between the church and the state in that regard," Superintendent Richard Langlois told MyFoxBoston.com.

However, Santa Claus is not a religious figure – and is not mentioned anywhere in the Biblical story of the birth of Jesus.

Regardless, the superintendent stood by his decision until word began to spread across the community. By late Monday, Santa had been given a temporary reprieve. The Saugus School Committee is expected to address the issue next month – meaning Santa's days may be numbered.

"I couldn't believe it," firefighter Mark Gannon told MyFoxBoston.com. "There are so many things in the world going on – to see that all of a sudden Santa can't go to the schools – what else are we going to give up?"

Gannon said he's been participating in the Christmas tradition for the past 14 years – and said the children absolutely love to see Old Saint Nick.

"It's a great thing," he said.

Superintendent Langlois defended his Santa ban – saying he was simply enforcing the rules..

"I'm carrying out the orders of the school community," he said. "I'm not overstepping my bounds."

But the firefighters said there is absolutely nothing religious about what they are doing.

"There's no religious content in the coloring books," Gannon said, noting that the coloring books feature characters like Strawberry Shortcake.

At least one school committee member is supporting the firefighters, calling the Santa controversy a case of political correctness gone amuck.