A surprisingly thoughtful piece by an N&O reporter …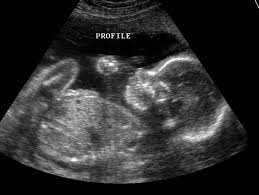 The debate over abortion frequently gets clouded by PR spin and code-words like "choice," as well as sign-wielding activists screaming at each other.  Earlier this year, the state legislature passed bills defunding Planned Parenthood and requiring doctors to show a woman an ultrasound of her unborn child before performing an abortion.  (Both issues are tied up in lawsuits as I write this.)
N&O reporter Burgetta Eplin Wheeler authored a very thoughtful piece in the pages of her paper that cut through the political spin and put a very human face on the abortion-related issues facing our state and country:
Fairly early in my pregnancy, on the very day I first let myself walk wide-eyed around Babies R Us, I began having signs of a miscarriage.

In a panic, I called my doctor, who met me at the emergency room. An ultrasound showed the baby was fine.

Seeing those legs kicking and arms waving made a reality of what until that moment had seemed pretty much a dream. There was a baby in there. And, no matter its size, it was my daughter.

Last month, a federal judge ruled that requiring women seeking abortions to first have narrated ultrasounds likely violated the First Amendment. The ruling came in a lawsuit against the state's new abortion law.

The judge let stand two other provisions that went into effect Oct. 26: a 24-hour waiting period and a requirement that women get extensive medical information before undergoing the procedure.

In 2009, 26,123 North Carolina women had abortions.

A study in the Archives of General Psychiatry found that 72 percent of women who had abortions were satisfied two years later with their decisions.

That means, this year, more than 7,300 women in North Carolina – 28 percent of the 2009 total – might regret their abortions.

If they had had ultrasounds or been required to wait a day or received more information, would they have made different decisions? The state should require that a neutral group track whether the law alters any outcomes.

Jackie Bonk, director of the Catholic Diocese's pro-life office, is a founder of Project Rachel, a counseling service for women who have had abortions. She recently attended a retreat at which the women wrote about their experiences.

"With a heavy heart, I walked into my gynecologist's office," one woman wrote. "I told (the doctor) that I wasn't sure I wanted to have the abortion. … Deep down, I think I was hoping she would tell me that I didn't have to go through with the abortion – that there was another way. But she didn't. After two years of pain and regret, I wanted forgiveness from God but was afraid to ask. … I will always regret my abortion, but I no longer live in shame."

Bonk said most women seeking help are those whose abortions were 20 years ago, not two years ago. "I met with a woman a couple of weeks ago who had her abortion – she's 85 now – when she was 20," Bonk said. "There is a delayed response. I think that's because denial is such a coping mechanism."

Six states mandate that abortion providers perform ultrasounds and offer women the opportunity to view the images. Half the states require counseling, then a waiting period, provisions the U.S. Supreme Court upheld in 1992.

Last week, the N.C. Attorney General's Office asked that the lawsuit against the new abortion law be dismissed. A hearing is scheduled for next month.

Women can still choose abortion. But given that it's a choice that can never be unmade, almost any law that reduces the chance that some will spend their lives marred by regret is a good one.

It's been 20 years since the ultrasound that gave me the first glimpse of my daughter. Such a sight – no narration needed – might help others realize what's really at stake.