*Um,  surprise, surprise — Mark Robinson is looking at a race for governor.*
The Republican lieutenant governor is marketing a memoir meant to promote his likely 2024 run for the open governor's seat. All the drive-by media got advance copies.  (Ours must have been lost in the mail.)  And WHAT did the Republican-unfriendly drive-bys take away from reading their advance copies?  Unfortunately, THIS:
[…] North Carolina Lt. Gov. Mark Robinson is dropping more hints about a potential run for governor in 2024. And, if elected, he says he'd work to keep science and history out of some elementary school classrooms.[…]
As a result,  there was a whole lot of belly-aching from the left and the establishment.  *How dare Robinson deny these kids exposure to such important subjects!*
The drive-bys followed up with THIS:
NC's Mark Robinson backs off his call to stop teaching science in elementary school
Really? Though, if you read a little deeper into the article, you would have seen THIS:
[…] "We're not talking about not teaching science to elementary school children," he said Tuesday. "What we're talking about is putting reading, writing and arithmetic – making that paramount in elementary school."[…]
Put more emphasis on the Three Rs.  Exactly.  To survive, and to contribute to society as a responsible adult, you need to be competent in reading, writing, and basic arithmetic (addition, subtraction, division, multiplication, et. al).

In the elementary level, "science" is basically propaganda and indoctrination in the gospel of radical environmentalism.  There are plenty of stories about little kids coming home and erupting hysterically about mom and dad destroying the world with their styrofoam coffee cups.  I'm not interested in continuing to support that in tax-funded schools.
History, unfortunately, is now about how racist and horrible our country has been.  Any white male with money living prior to 1865 is automatically RACIST. Francis Scott Key — yes, The Star-Spangled Banner guy — has even been smeared as a RACIST.  His name has actually been stripped from buildings.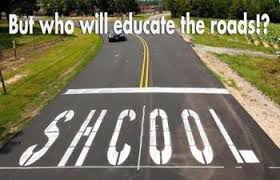 Teaching and tutoring at the collegiate level, I have been stunned to see how many kids have made it through 12 years of public school and still struggle to read or write a coherent essay. Their writing can easily be compared to that of someone foreign-born beginning to learn English.
I've seen kids who can't do basic math without the aid of a calculator.  (I saw one student actually punch 7 times 4 into the calculator.)
Our young people need much more attention in the areas of grammar, reading, and basic math.  Those are essential to surviving as responsible adults.
If you're going to keep science and math where they are, at least TELL THE TRUTH. Be truthful about the founding of our country and our revolution.  There's much more to our history than racism against black people.  Keep science simple –like explaining the reason you don't float off into space, how oxygen is made, or how electricity works.  What good does scaring the hell out of little kids about their parents really accomplish?
I'm not sure if Robinson can make it to the state's top job.  I do respect him for bringing up and defending some important conservative arguments about the issues.  (Dan  Forest COULD have done a lot more of that. )