Why did NCGOP hire a private eye?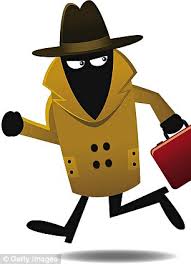 According to the party's latest financial report, a payment of nearly $5000 was made to Scott & Associates Investigations of Greensboro on April 10.
I understand that opposition research is an integral part of a political organization's business plan.  Malleus Political Strategies of Raleigh got paid for some of that on April 4.
(I have to say it IS interesting the party is conducting oppo during primary season — before even the Democrats have selected their nominees.)
But Scott & Associates appears to be a bit different from Malleus.  According to their website, Scott & Associates advertises itself as "investigative & protective teams of experienced investigators and security personnel." 
Couldn't find ONE MENTION of political campaign work.  
Here are some testimonials from what appear to be satisfied customers of Scott & Associates:
[…] 
"That was my family money he was using to support his little girlfriend and HIS two children. I knew all those so-called 'mission trips' were complete bull#*@&!!"
-Retired Senior Citizen's wife

"My attorney said you guys were the best! Thank you for getting the proof we had to have. It was like Christmas in May!"
Physician's Spouse
-Wnston-Salem, NC

"That GPS (Tracking System) is like having an "invisible P.I." in the back seat with a cell phone."

-CEO
-Los Angeles, CA

A thousand thanks is not enough (arrested and in a third world jail.) I thought I'd die there! I'll never leave home again.

-College Grad Student-
Asheville, NC

"Nothing is more important to me than my kids. Thank you so much." (We found her children 1800 miles away and retrieved them from non-custodial father who illegally abducted them.)

Working Single Mother
Greensboro, NC
And HERE are some of Scott's offerings to potential clients:
Worldwide Investigative Contacts and Offices in USA and the Dominican Republic  More than 800 professional, screened, locally licensed investigators in 77 different countries.


** To Date:  We've worked successfully in 80 countries.   […]   Trust us with your needs in North Carolina, Asian Countries, the Caribbean Islands, and all of Latin America!

Investigative & Protective Teams of Experienced Investigators and Security Personnel

             Experienced Male or Female agents, armed or unarmed as needed.


Free Initial Consultation

             Our Clients decide if investigation is warranted or economically worthwhile, at no initial cost or obligation, and all the while we maintain everything they say as completely confidential.


             Affordable rates, professionally and diplomatically established with our Clients.


State of the Art Equipment

             GPS tracking and recording systems; covert cameras and night vision video for evidence and a dramatic courtroom impression. 

Electronic Countermeasures License #67.  We have equipment for finding hidden cameras and transmitters.  We are Licensed for professional "debugging" of vehicles, telephones, and offices.  Please call us from a secure or safe phone[….]