Two more days to vote in the runoffs !!!!!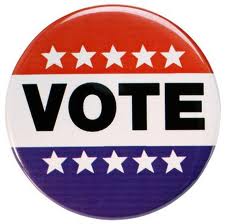 Democrats AND Republicans have stuff to vote for in these current runoff races in North Carolina.  There is a Democrat runoff for Labor Commissioner. ( Not very sexy, but still very important.)
Republicans have A LOAD of stuff to vote on:
Lt. Governor:  Dan Forest, a Raleigh architect, and Dan Gurley, a Wake county commissioner, are squaring off in this GOP runoff.  We have recommended a vote for Dan Forest, and have caught some heat for it from friends, readers, etc. etc. 
From what I know of both of these guys, they both seem like great individuals who would do a great job.  I've experienced both guys in person.  The one time I was in the room with Gurley was at a Moore County GOP function.  He sort of sat in the back of the room by himself like a wallflower.   I've heard good things about him, but he is still pretty much a mystery to me.  (I know a lot of my friends in Wake County adore him.)
Dan Forest has aggressively embraced Tea Party activists and others who have long been outsiders — or "small fries" — in the state's political process.  He seems to have grasped the concept of  "grassroots" politics nicely.  Granted, his outsider credentials may be tarnished by the fact that his mother is a sitting Member of Congress and a former mayor of Charlotte.   But the guy has openly  embraced homeschoolers, Tea Partiers and other folks that establishment types and professional consultants typically warn candidates to run from.  Ronald Reagan's kids (except for Michael) have all been lefties.  I am the grandson of one of former governor Jim Hunt's top political mentors.  Believe it or not — children and grandchildren SOMETIMES fall far from the tree.   Dan's mother, congresswoman Sue Myrick,  however has put together a respectable voting record that is one of the state delegation's most conservative. 
Gurley's attack on Forest for not having government experience worries me about Gurley.  Does the Gurley camp — and the state GOP establishment — honestly believe that past government experience is more valuable than experience in the private sector?
Jesse Helms was an unelected private citizen when he ran for the U.S. Senate in 1972.  He ran against veteran congressman Nick Galiafinakis (D) and WON.  I believe most GOP voters out there would agree that Helms ended up doing JUST FINE in Washington.
I've talked extensively with Forest.  I've developed a gut feeling about him that he is very genuine — that he is what he advertises himself to be.  I hope I'm right.  I'm sticking with Dan Forest.  
Superintendent of Public Instruction.   John Tedesco is facing off against Richard Alexander.  I have communicated extensively with Tedesco, and don't know much about Alexander.   Judging from what he's told me, and what I've seen of his performance on the Wake County School Board, I can see Tedesco giving the NCAE and the educrats in Raleigh a much needed "Chris Christie" treatment.  He's got a record in Wake of ripping money out of the central office and pushing it into the classrooms.    That's exactly what we need more of in this state.    We're recommending Tedesco. 
Secretary of State:   We are recommending Ed Goodwin in this race.  Ed has served his country with NCIS, his home county on the board of commissioners, and runs a successful family business with his brother.  His opponent, Kenn Gardner, lost points with me when he labeled Goodwin — who spent years working on counterterrorism and presidential security matters — as a 'government bureaucrat.'  Ed's investigative background should be an asset to the investigative arm of the secretary of state's office.
Commissioner of Insurance:   Mike Causey is THE CHOICE.  There is some other guy on the ballot.  I can't remember his name.  But all you need to remember is MIKE CAUSEY.  Causey is a straight-shooter who has been a good soldier for decades with the GOP.  He is a veteran of the insurance and construction industries — two areas that interact frequently with the Department of Insurance.  Please, vote Mike Causey.  (It's important.)  MIKE CAUSEY.  MIKE CAUSEY. 
SAY NO TO SLEAZY POLS AND MEDDLING FROM DC AND RALEIGH INSIDERS.    Establishment Republicans in both cities are trying to innoculate themselves from the Tea Party by hand-picking YES MEN in party primaries.
In the 8th congressional District, Richard Hudson moved to North Carolina in October 2011 to run for Congress.  He had spent the last ten years in DC as a political flack.  He started his "marketing business" on the same day he filed for office in October.    His opponent, Scott Keadle, runs a business in the Eighth District  and employs and serves many many district residents.  Hudson's resume is nothing put paid political hack work for a lot of politicians.  Keadle has actually run a small business, and tried to make a living despite the inanity coming out of Raleigh and DC.
Hudson is bashing Keadle for accepting stimulus money on behalf of the county while he served as a commissioner.  Hudson worked as chief of staff to a member of Congress who VOTED FOR Obama's stimulus.
Keadle is the no-nonsense, independent, conservative grown-up in this race.  Say Yes to Keadle and NO to DC politicians trying to buy control of one of North Carolina's congressional seats.   
In NC House District 6,   Mattie Lawson is the hands-down choice.  She is up against Arthur Williams, a former Democrat who Republicans threw out of this seat in 2010.  Now, some Raleigh establishment types have convinced Williams to switch parties and run for the seat as a Republican.  Say YES to Lawson, and NO to power plays from Raleigh politicos. 
In the Ninth Congressional District, former sheriff and current county commissioner Jim Pendergraph is facing off against former state senator Robert Pittenger.  There are serious questions surrounding both candidates.  But it is becoming increasingly clear that Pittenger used his influence in the state Senate to enrich himself and his cronies.  Pendergraph is endorsed by outgoing congresswoman Sue Myrick.  I'm going to go with Sue on this one  and recommend a vote for Pendergraph. 
Regardless of whether you agree with my recommendations, it is important to take a few minutes and GO VOTE in the runoff.  It's important for our state and our country. It's important for our democracy.  VOTE.