The new R's in public education: Rapin', Riotin', Retaliatin', Ravagin', and Rampagin'.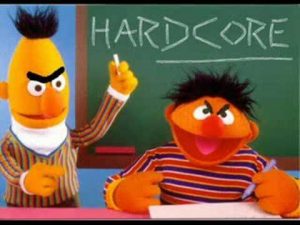 New stats from NC DPI show that assaults on teachers and school personnel (by the little darlings, of course) in  Durham are sky-rocketing.  And to think that the SJW snowflakes who run that place are so fixated on racist tree canopies and further neutering the police.
DPI tracks the 16 "reportable offenses" — as shocking, if not more so, than  George Carlin's Seven Dirty Words — by school, system, and county. 
Said offenses include: rape, kidnapping, sexual assault, and assault on school personnel. 
For 2015-2016,  here are some of the, um, "highlights":
Alamance-Burlington Schools

had 26 assaults on school personnel included in a total of 161 "reportable offenses" for the school year.

Buncome County Schools

had 217 of these "reportable offenses."

Cumberland County

had 561 "reportable offenses" for the school year (incluiding 210 assaults on school personnel).
Guilford County had ONE rape and 95 assaults on school personnel included in a total of 616 "reportable offenses".
Durham County had 383 reportable offenses that year — including 39 assaults on school personnel, 1 armed robbery, 1 sex offense, and 1 sex assault.
Charlotte-Mecklenburg had 1371 reportable offenses that year — including 301 assaults on school personnel, three armed robberies, one sex offense, and one sex assault.

Robeson County,

regularly ranked as one of the most violent counties in the state, only had 210 reportable offenses that year.
Moore County only had 84 reportable incidents — including five assaults on school personnel, and one assault resulting in serious injury.
Wake County had 829 reportable incidents — including 46 assaults on school personnel, one burning of a school building, and nine sexual assaults. (Currituck County had two incidents where school buildings were burned.)