That's right. The FIRST-EVER vegan, social justice-themed bar.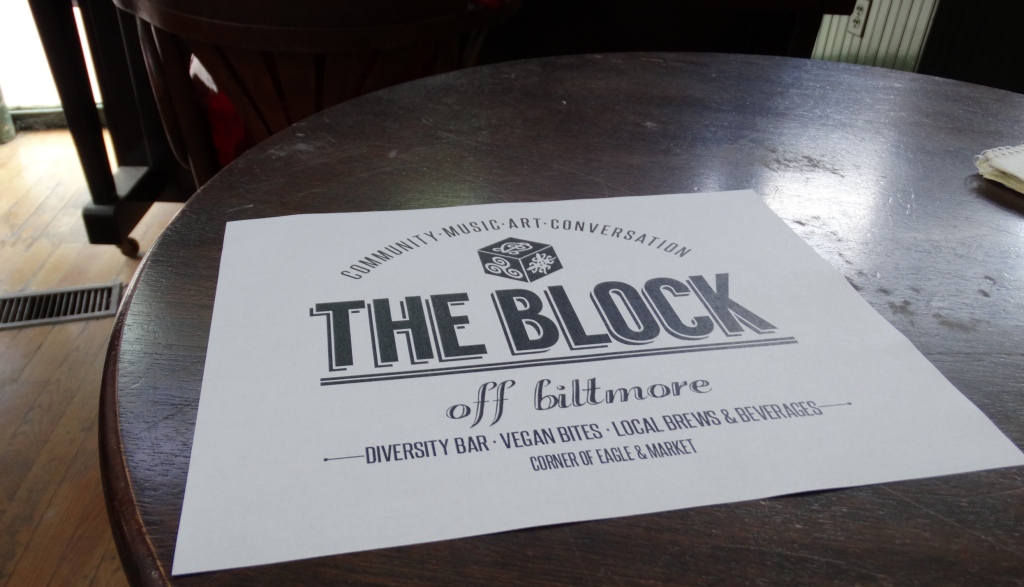 If you guessed this GIFT FROM GOD was based in Chapel Hill or Carrboro — you'd be WRONG.  Asheville, the western outpost for the Obama-lama-ding-dong loving drum circle crowd, is the lucky recipient of this, um, "treasure": 
In Asheville, North Carolina, history is about to be made — and honored. THE BLOCK off biltmore (TBob), the first-ever vegan bar and eatery dedicated to social justice and solidarity, opens its doors this week.

Located in one of the oldest African American cultural centers in the U.S. — the YMI (Young Men's Institute), the bar is all about its mission: to celebrate and honor diversity.

Built in 1893, the YMI was originally a cultural center for young African American men who were constructing the Biltmore — America's largest home and now a popular tourist attraction. With TBob, owner Cam MacQueen is celebrating the location's legacy.

"We want to be a multicultural community living room," she says. "We'll be doing lots of live music, spoken word, we'll have ongoing art exhibits and receptions for the artists, documentary screenings, wine tastings. Plus we'll be highlighting vegan food and busking for bites — basically food by donation."
I had to look up "busking." That is the act of playing music in exchange for spare change, etc.  So, they'll be feeding people in exchange for performing music.  Sounds like a WINNING business plan.  (How much do you want to bet there is government money involved in this?  I mean, who in their right mind would invest in this? ) MORE:
The bar will even have a "jazz and justice night."

"We'll partner with a local nonprofit and a jazz trio will perform. The nonprofit's rep will say a few words about the group's mission and goals and we'll give them a percentage of that night's bar take," says MacQueen.

Local history is represented in everything from the stained glass back bar (sourced from a North Carolina church) to the sycamore railing (sourced from the nearby Biltmore Estate). MacQueen has also insured a commitment to environmental sustainability, and will be applying for B corporation status (a rigorous certification for businesses that benefit society).
What church would have a stained-glass back bar — much less one to donate to THIS ????  (I sure hope this writer is NOT using the word "sourced" as a synonym for "burgled.")

Oh, and we're more than familiar with B-corps.  They've tried and tried to push these things through the legislature.  Basically, when you take on that status, you place "environmental concerns" ahead of profits and shareholders.  In other words, you don't want to make money.  MORE: 
As far as the menu, "vegan food artist" Ebone' Graham is leading the edible efforts. Everything will revolve around a soul food theme. "Initially we'll start out with pretty standard vegan bar fare, and pretty quickly we'll get into a hot foods happy hour that starts around 5:30 and goes until the food runs out," says MacQueen. It'll include vegan mac and cheese, greens, BBQ tofu twists, and other soul food options.

So why pair veganism with social justice?
And why not ???  Those two things go together so well. Like chocolate and peanut butter. Like Marx and Lenin.  Like Biden and Obama-lama-dingdong.  MORE: 
"The vegan part is very much a social justice issue," MacQueen explains. "It's a social justice level on many fronts — for the planet, for the animals, for our health, for starving people, for food scarcity," explains MacQueen. "Resource depletion of every kind, whether it's water, or climate change, or the rainforest, is directly impacted by animal-based agriculture, and we know that thanks to the UN report that came out in 2008. Animal agriculture causes more greenhouse gas emissions than all vehicles combined."


The overall concept was inspired by Washington DC's Busboys and Poets — a chain of bars dedicated to racial and cultural connections and social change. It's not vegan, however, so the focus on a plant-based lifestyle makes TBob completely unique.

With music, art, poetry, vegan food, and a full bar, TBob's will create a one-of-a-kind composite of social responsibility and socializing. In MacQueen's words: "We want to have a lot of fun, too."