Readin', Ritin' & (*CRACK!*) Re-educatin'
When you think of community colleges, you tend to think of things like,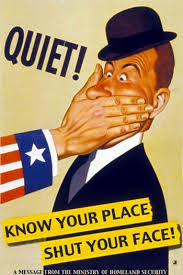 oh, job training and continuing education.  Somehow, on a lot of community college campuses, the lines are being blurred between what you find there and at traditional four year colleges and universities.  As an example, take a look at a new hire just announced at Sandhills Community College: 
Alfreda Stroman has been named Associate Dean of Campus Diversity and Cultural Programs at Sandhills Community College.

In this newly created position, Stroman will work to promote employee and student engagement in activities that enrich campus understanding of diversity and culture.
Her duties will include leading communications with campus and service communities in identifying opportunities to promote diversity and cultural awareness. She will work with college administration and subcommittees to host and promote special events to commemorate Martin Luther King, Jr. Day, Constitution Day, Black History Month, Native American History Month and the like.

Ensuring minority representation on hiring committees and securing funding for special projects to make certain there is funding for campus-wide engagement in diversity and cultural programs will be some of Stroman's other responsibilities.
I WANT to think this is the result of a shakedown by The Round Rev or some educrat in Raleigh or DC.  But, wait.  It gets,um, *better*:
[…] She will report to Ron Layne, the vice president of College Initiatives.

"When Alfreda became the senior minority SCC faculty member after Bobby Allen retired, she became the obvious candidate for this newly created role," Layne said. "Alfreda brings to her new position the first-hand experience of one who watched the Civil Rights Movement unfold. She has since committed her life to fostering the vision of the icons of human fairness and equality — from Dr. Martin Luther King, Jr. and Shirley Chisholm to Bella Abzug and Cesar Chavez.[…]
(*Ooof.*) Wait, there's more:
[…] "I recognize the importance of building a climate of inclusiveness among any and all cultural and social factions that comprise the student body, the faculty, the staff, and the administration," says Stroman.

Stroman's goals for the upcoming year at the college include: a Veteran's Day speaker; a Martin Luther King Day speaker; Black History Month speakers and functions; Women History Month recognition; Lesbian, Gay, Bisexual, Transgender, and Queer (LGBTQ) Training for the Diversity Committee and campus awareness; Gender, Gender Identity or Gender Expression; Race issues; and Disability/Veterans issues.
She will also spearhead a student diversity training initiative in the spring and LGBTQ facilitator training.
A Diversity Committee ?????   (Paging Mr. Orwell.  Mr. George Orwell … )