#ncpol: Dallas setting his sights on DC?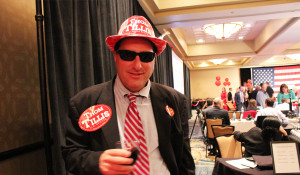 He gave THIS TV interview.  He's committed some of the most public charlie-foxtrots, as exemplified HERE and HERE and HERE.  His cronies worked hard to undermine Donald Trump before and during the RNC convention, in the name of Ted Cruz.  While serving as executive director of the NCGOP, he proudly bragged that he was "the governor's man" and spent most of his time on the governor's reelection.  (How did that turn out?)  And, lastly but not least, he described the Trump campaign to anyone who would listen to him as "idiots who don't have a clue."
Despite all that, NCGOP insiders tell me Dallas Woodhouse is brown-nosing the Trump transition team fast and furious.  I am told that materials disseminated to promote Dallas to the Trump people include terms like "political superstar."
As bad as we want him out of Raleigh, I don't think we want to wish him on our new president.