Lake Norman chamber jumps into I-77 toll road fray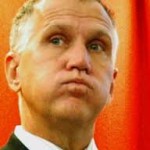 The proposal to install tolls on I-77 in northern Mecklenburg County — championed by Pat McCrory and Thom Tillis —  has turned into quite a political hot potato.   A growing number of localities in the region have voted to oppose the project or to seek its delay or defunding.  The Mecklenburg County commissioners have strongly come out against the project.  Now, The Lake Norman Chamber of Commerce — whose membership is centered around the affected area — has come out strongly asking that the project contract be cancelled. 
Lake Norman business leaders have joined the rallying cry urging state transportation officials to sever ties with developers of a divisive $650 million plan to add toll lanes to the northern half of Mecklenburg County.

The Lake Norman Chamber of Commerce's 21-member board on Tuesday called for the N.C. Department of Transportation to cancel a contract with I-77 Mobility Partners and find an alternative way to widen the interstate.

Their announcement comes a week after Sen. Jeff Tarte, a Cornelius Republican, said he planned to file a bill that would defund the Lake Norman-area project. Tarte has said an endorsement from the business community would likely strengthen his bill in the Senate.

Widespread opposition to the project has emboldened Charlotte-area business and political leaders, who plan to make a bus trip to Raleigh next Tuesday to meet with lawmakers. That's the same day Tarte tentatively said he'll introduce his bill.

"Every single person in Raleigh, with the exception of Sen. Tarte, hears the DOT side of this," said Republican Mecklenburg County commissioner Jim Puckett, a vocal critic of the project. "They're not hearing from the business community that's going to be impacted by this for five decades. We want to have an opportunity to explain."

The 50-year contract, which requires the state to pay developers if it builds any new free lanes on the interstate, has inflamed passions from citizens, activists and elected officials who oppose tolls. Taxpayers are expected to foot the bill for an initial $95 million for the project. The N.C. DOT has said the tolls, on 26 miles of Interstate 77 from Charlotte to Mooresville, would ease congestion.

Gov. Pat McCrory has said he won't include free lanes in a November bond referendum for roads and other projects. The N.C. DOT has said canceling the project will cost the state up to $100 million, and risks about $145 million in funds that could be used for other projects in the Charlotte region. […]
Tillis and McCrory spent all of that time ignoring these people and ramming this project through the bureaucracy in Raleigh.  Now, Tillis is in DC — quiet as a mouse — and McCrory is trying to paint these protesters as the unreasonable bad guys?