Internal Dem Polling: BOOM BOOM still 'Top Donkey' for NC Dems in 2012 race for Governor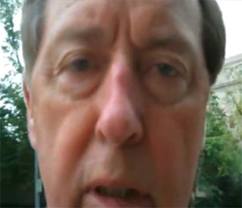 Former congressman  Bobby "Boom Boom" Etheridge  is STILL LEADING in Democrat polls on the NC Governor's race — even though he has yet to file.  The latest  Dem internal numbers show BOOM BOOM with 42 percent, Lt. Gov. Walter Dalton pulling 25%,  former state treasurer Richard Moore pulling 25 percent,  and state Rep. Bill Faison with eight percent.   Dalton and Faison are the only candidates in that group who have actually filed for the governor's race.
Moore announced today that he will not be running for governor.  Dalton has been taking advantage of publicity surrounding visits to the state by Joe Biden and other BarryO cronies to raise his name ID and shake the "Walter WHO?" moniker.
I HOPE HOPE HOPE Boom Boom does not chicken out of this race.  I am so looking forward to the first Democrat debate where Boom Boom has to field a question about child abuse.   You can keep up with the latest developments in the Boom Boom phenomenon  via Twitter by clicking HERE.