For SOME NC GOPers, being a Boehner lapdog has its rewards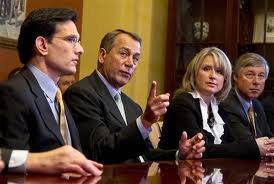 We've all seen and heard the stories about Boehner, Cantor and McCarthy's list of conservatives to purge from committee positions.  Apparently, Tea Party-aligned Members of Congress who actively protest moves by GOP leadership to allow for more spending and taxes are losing their committee assigments.  "Team Players" — those who will eagerly say 'How High?' when John, Eric and Kevin say JUMP — are being moved in to replace the independent thinkers.
Rep. Walter Jones (R-3rd) has been questioning the stance of leadership on the debt ceiling and the fiscal cliff.  For his troubles, he got bounced from the House Financial Services Committee.  On the same day Jones was removed, newly-elected congressman Robert Pittenger (R-9th) got placed on the Financial Services Committee.  (Boehner campaigned in the Charlotte area with Pittenger during the election.)
Newly-elected congressman Richard Hudson (R-8th) was named to the House Agriculture Committee as Tim Huelskamp (R-Kansas and a Tea Partier) was removed for daring to oppose House leadership on the fiscal cliff and debt ceiling.   Hudson, like Pittenger, had the benefit of Boehner campaigning for him during the election.
Patrick McHenry (R-10th) has announced that Boehner has blessed him with chairmanship of an important House Financial Services subcommittee.   McHenry also campaigned with Boehner during the last election.
Renee Ellmers  (R-2nd) — who told us during the last election that she "never really was a Tea Party person" and that John Boehner is her "boss" — has racked up a lengthy record of sticking with leadership when the choice is between grassroots conservatism and the wishes of John, Eric and Kevin.  Miss Harnett County, for all of her hard work on behalf of leadership, was rewarded with three sweet subcommittee posts on the House Commerce Committee.
Hudson, McHenry and Ellmers are set to score big in the next session, thanks to these assignments.  Commerce, Agriculture and Financial Services put you in a great position to scoop up lots and lots of PAC money from banking and corporate interests.
From 1972 to 2002, conservatives in the Tar Heel state were blessed with the leadership of Senator Jesse Helms, who quite often told Senate leaders NO in order to stand by his conservative principles and honor his campaign promises.  His focus was squarely on the folks back home.  You never saw him checking in with leadership for its blessings.