Bullying & logo stomping. *Oh, my.*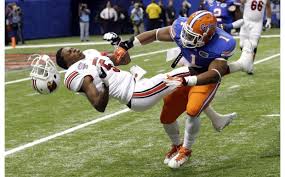 Football is getting quite a few headlines lately.  The mainstream media is aghast at the idea that people can – *gasp* – get seriously hurt playing this game.  Guys who play the game are — *gasp* –– sometimes not very nice to each other.
Here in North Carolina, there is a wee bit of controversy about a mid-field confrontation between players in this past weekend's North Carolina-North Carolina State football game.  Any time those two schools meet — whether it's women's tennis or men's basketball —  the tensions are high. It's an old, storied rivalry.  At the end of the game this weekend, the North Carolina players decided to go to mid-field at Carter-FInley and do a stomping victory dance on State's new logo.  Kids will be kids.
In response to that, I'd like to offer up some advice I've heard often from wise old men in my life – ranging from former coaches to my dad:  Act like you've been here before.   Carolina fans are still angry at Duke over then-coach Steve Spurrier's team photo in front of the Kenan Stadium scoreboard following a big Blue Devil win.  Carolina fans didn't like a visiting rival gloating over a big win.  Why go do it to someone else?
Carolina has dominated State pretty handily on the gridiron in recent years.  Both teams are stuck below .500, mired in miserable seasons, and aiming for spots in The Toilet Bowl.  Carolina had to hold its collective breath to escape with a win.  The game wasn't played very well.  I could see celebrating a win over Miami or Florida State or Virginia Tech on their home field. But dancing like that over a close win against your fellow in-state cellar-dweller?
Let your game performance do the talking.  Let the final score do the talking.  Junk like what happened at mid-field last Saturday provides bulletin board material.  It will also likely lead to some serious payback.  State will win at Kenan some time in the near future.  And they WILL remember this.  The media and the coaches should be talking about great performances by groups of players or specific players.  Instead, we're all talking about the childish nonsense at mid-field.
I had to do a double-take when I started seeing stories about "bullying:" in football. Seriously?  Bullying and intimidation are key ingredients to a successful football strategy.  I'm a former defensive tackle.  I never said "Pardon Me" to an offensive lineman as I attempted to get past him to assault his running back or quarterback.  The only hugs I ever got from an offensive lineman typically resulted in a five yard penalty against him and his team. 
There is also a lot of jaw-jacking on the field.  News flash:  Your mama will be discussed frequently with you by guys who have never even met the lady.
Though, it is rare for stuff like this to go on between teammates.  I know we had a particularly obnoxious, arrogant backup quarterback.  Sometimes, he would take snaps in full-contact practice drills.  I noticed that the offensive linemen I worked against typically didn't work near as hard to protect him as they did our starting quarterback.
I've heard stories about pro quarterbacks like John Elway and Peyton Manning buying their linemen expensive gifts each season.  It's good to make friends with big strong guys who can protect you from getting crushed by the big strong guys on the other team.
Sports teams are a lot like military units — morale and cohesion are vital keys to success.  Dissension in the ranks hurts the overall performance of the group.  That may offer some explanation for the Miami Dolphins' dismal performance this season.
I believe the situations at Carolina and in Miami can both be solved by a serious dose of leadership by the coaching staffs.