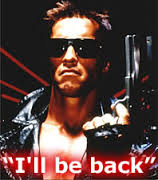 This weekend, I will start taking some medical leave.  I have a surgical procedure scheduled for this coming week that the doctors tell me really shouldn't wait much longer. It will require some time offline and / or off-the-grid.
So, there will be no new content on the site for the duration of the upcoming week.  (If all goes well, I anticipate returning somewhat to 'fighting form' on or about May 12.)
We appreciate the support you've shown for the site.  Please stick around and come back to see us when I return from my little medical situation.