I remember back in 2013 or so when ABC11 in Durham did a *cute* little man-on-the-street piece on how people could not recognize Dan Forest when they saw him.  (Forest had just won his first Lt. Governor race.)
I had an experience the other day that reminded me of that episode.  I have some friends whose son has a job at a popular tourist spot here in Pinehurst.  I was at their house the other day when their son burst through the front door in excitement.
" I met the governor today," the boy announced.
My friends and I exchanged wary glances at each other.
"Everybody at work was so excited," the boy continued. "We all took pictures with him. Not everybody gets to meet the governor."
The boy proceeded to show us a photo on his phone.  After my friends looked at it, the husband passed the phone to me — trying to hide a bemused facial expression.
The photo was of my friend's son and ROY WILLIAMS.  You know, the former UNC and Kansas head coach.  He's been a major player in the basketball world, but I don't think he's ever been elected governor.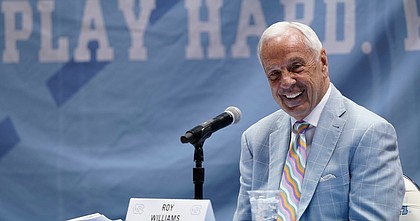 I don't know who should be more concerned:  Roy Williams or Roy Cooper.  Perhaps some parents should be concerned. Their kids are clearly not being taught enough about current events or even WHO runs the state.