#ncga: Harry Brown for Congress ???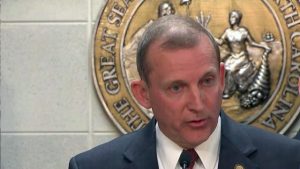 That's the word on the street (at least the streets in the Third Congressional District).  I've heard from a number of movers and shakers in the 3rd district NCGOP who tell me they've heard from the North Carolina Senate Majority Leader and folks close to him about this.
"This is not testing the waters," one source in the know told me. "This is 'I'm IN.' "
If Brown does follow through, it would make the 3rd district GOP primary — already featuring incumbent Walter Jones and Craven County Commissioner (and lobbyist) Scott Dacey — even more of a 2018 blockbuster.
Sources in the district see Brown's entry as a serious blow to Dacey.  Dacey had been the leading option for the anti-Jones vote.  But many of the folks were troubled by his work as a lobbyist for Indian gaming interests.  Brown is seen by many in the district as a more palatable option for the anti-Jones contingent in the district.
GOP congressional primaries in North Carolina are typically quiet affairs.  Though, in 2018, the 8th's Robert Pittenger has all he can handle from pastor Mark Harris.  Brown's entry into the race may lead to changes in TWO Republican-held districts.