Face it folks.  Our legal system is little more than lawyers scratching each other's backs.  They're all buddies in the local bar.  They get each other elected to the legislature.  They get each other appointed to the bench. And the prosecutors and defense attorneys are hardly the adversaries you see them portrayed as on TV and the movies.
And all of us are left standing on the sidelines watching in belief.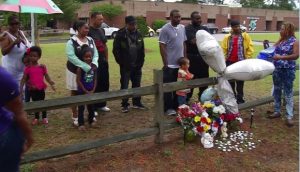 I remember well the morning that Stephen McGregor was run down on the side of NC 211 near West End.  I was driving past the crime scene — right in front of West End Elementary School — a few hours after the incident.  It seemed every first responder in the county was on the scene.  (At first, I thought something had happened to the kids at the school.)
Nope.  Sadly, young Mr. McGregor was taking his regular two mile walk down the road to his job at the West End McDonald's restaurant, The young man was a well-liked, well-known figure at the restaurant.  The management often  entrusted him to open the place up for breakfast each morning.
That's where he was headed the morning he died.  The blow from the vehicle knocked him about 10-15 feet into a decorative wooden fence in front of the school.   Whoever hit him kept on going — not even bothering to stop and check on him or call 9-1-1.
School staff discovered Mr. McGregor's body about the time busloads of kids began pulling into the school.
Lawmen began a relentless search for a suspect.  A surveillance camera at a nearby convenience store revealed a clue — a truck pulling in not long after the incident occurred. The truck was impounded within 24 hours.  And weeks later, the truck's owner was charged with the crime.
And THAT leads us to the events of this week:
An Eagle Springs man was sentenced to probation Tuesday for his role in a 2016 hit-and-run that killed a pedestrian in West End.

Jacob Lewis Green, 22, had been charged in connection with the hit-and-run death of Steven Markel McGregor. Green pleaded guilty to a lesser version of the offense Tuesday in Moore County Superior Court as part of a deal arranged by Eddie Meacham, his privately retained attorney.
[…] Green's conviction comes 21 months after McGregor, 23, was fatally struck by a Dodge pickup truck near West End Elementary School on N.C. 211. McGregor, who had been walking to his job at McDonald's in Seven Lakes, was found dead beside a split-rail fence by his cousin shortly after 6 a.m. on May 20, 2016.

Authorities used video captured by a fuel station security camera to locate the vehicle. The truck was found and seized less than 24 hours after the crime was reported, but weeks passed before an arrest was made.

"We want to do a thorough investigation," Sgt. S.P. Fortner of the state Highway Patrol told The Pilot at the time. "We do not want to rush the charges."

Green was arrested on July 15, 2016. He spent a day behind bars before being released from the Moore County Detention Center under a $100,000 secured bond.

After learning about the proposed plea agreement in December, McGregor's mother Josephine Allred said she felt probation was too lenient of a sentence for Green.

"He needs to be punished for what he's done, not just probation," Allred said in an interview with WNCN, a CBS affiliate in Raleigh. "If they give him probation, he's getting probation for killing someone? That's not fair."